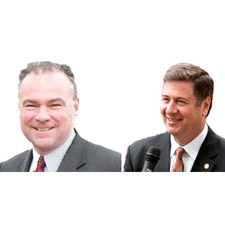 A new Public Policy Polling survey of Virginia voters gives Tim Kaine a slight lead over George Allen in their megawatt race for the U.S. Senate.
The PPP poll has Kaine, a Democrat, ahead of Republican Allen by a 46 percent-to-43 percent margin.
The two former governors are the presumptive frontrunners for their respective parties' nominations for the Senate seat to be contested in 2012.
Inside the numbers, Kaine maintains a slight edge among independent voters, at 44 percent support to 43 percent among independents for Allen. Further inside the numbers, Allen has a favorability gap among independents that he will need to overcome if he is to have a good shot at winning in November 2012. Just 20 percent of independent voters have a favorable opinion of Allen, with 47 percent holding a negative opinion.
Kaine's corresponding numbers are 43 percent favorable and 38 percent unfavorable.
The situation for Kaine improved as Barack Obama's lead over his potential Republican opponents in Virginia narrowed a bit. Obama still leads his closest GOP rival, Mitt Romney, by four points, at 47 percent to 43 percent, but that's down from an 11-point bulge (51 percent to 40 percent) over Romney in Virginia in May.
Obama leads Minnesota Congresswoman Michele Bachmann and Texas Gov. Rick Perry by nine points each (49 percent to 40 percent over Bachmann, 48 percent to 39 percent over Perry) and 14 points over former Alaska Gov. Sarah Palin.
"Even as Barack Obama's numbers in the state have worsened over the last 3 months, the state of the Senate race has remained the same," said Dean Debnam, president of Public Policy Polling. "This is a contest that seems likely to stay tight all the way to Election Day regardless of changes in the political winds."