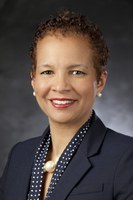 Pamela Sutton-Wallace, MPH, senior vice president for hospital operations at Duke University Hospital, has been named CEO of the University of Virginia Medical Center.
Sutton-Wallace, 44, will begin at UVA in July.
"Our goals include providing the best patient care in the safest environment, while optimizing efficiency and effectiveness as an organization," said Rector George Keith Martin. "These goals can only be achieved in concert, and we are thrilled that Pamela Sutton-Wallace is joining us at this critically important time to help us do just that. She is very highly regarded and we are blessed to have her on our team."
She will succeed R. Edward Howell, who is retiring in June after more than 12 years as the medical center's CEO. He will continue teaching in the Department of Public Health Sciences following his retirement.
"Pamela brings a proven track record of operational excellence," said Patrick D. Hogan, UVA's executive vice president and chief operating officer. "She will hit the ground running here, and brings just the right combination of experience and expertise to build on the successes of Ed Howell."
Richard P. Shannon, MD, UVA's executive vice president for health affairs, said Sutton-Wallace was at the heart of Duke's success in recent years, making her an ideal fit for UVA Medical Center.
"Her management experience in Duke's flagship hospital coupled with her commitment to the academic mission were a perfect blend," he said. "Academic medical centers are the economic engines of the modern day health care enterprise, and her experience and success at Duke gives me exceptional confidence that she is the leader for the future of the UVA Medical Center."
Becoming CEO at UVA Medical Center appealed to Sutton-Wallace for the opportunity to work with Shannon and President Teresa A. Sullivan. "UVA has a strong brand and legacy and is known for its excellence," Sutton-Wallace said. "My goal is to build upon that legacy by helping UVA become one of the top 10 healthcare organizations in the country, and we're well-positioned to do that."
Sutton-Wallace comes to UVA with more than 20 years of healthcare experience, including the last 17 years at Duke University Health System. Beginning in 1997 as a fellow in health administration, she successfully took on several leadership roles at Duke in areas ranging from outpatient clinics to inpatient medical/surgical units to surgical services, leading in September 2011 to her appointment as senior vice president for hospital operations at Duke University Hospital.
Over the past two-and-a-half years, Sutton-Wallace was part of the leadership team that oversaw the installation of a new electronic medical record at Duke Hospital and the opening of a new inpatient bed tower that also includes 18 operating rooms. In her role as senior vice president, Sutton-Wallace administered more than 950 inpatient beds along with the emergency department, medical/surgical/critical care, psychiatry, dialysis, lab services, radiology and surgical services.
"Effectively managing a comprehensive healthcare enterprise in today's environment has to be among the most difficult of assignments," Sullivan said. "The University of Virginia is fortunate to have someone of Pamela Sutton-Wallace's caliber join us."
Sutton-Wallace's responsibilities as CEO, Shannon said, will include leading UVA Medical Center through unprecedented transformation in the delivery of healthcare. "She will be a critical advisor to me as we chart UVA's course to expand the health system's range and scope," Shannon said. "She will be a trusted colleague to the deans of the Schools of Medicine and Nursing, the UVA Physicians Group, and the Claude Moore Health Sciences Library as we work together as a unified UVA Health System."
Sutton-Wallace said she looks forward to working with and learning from the entire care team as well as inspiring discussions about how UVA Medical Center will evolve as healthcare moves to a population health model, where the focus is on keeping communities healthy instead of treating patients after they become sick.
"The future of healthcare is about redesigning ourselves to care for an entire community while honoring the individual patient experience," she added.
Sutton-Wallace is married to Maurice Wallace, an associate professor of English and African and African American Studies at Duke. They have two daughters: 15-year-old Sage and 13-year-old Amaya.