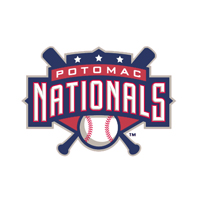 The Potomac Nationals (75-55, 37-24) clinched a 2014 second-half Carolina League Northern Division Championship at Frawley Stadium by beating the Wilmington Blue Rocks (62-69, 29-34) in Game One of a doubleheader on Wednesday evening by the final score of 3-0.
The P-Nats also defeated the Blue Rocks by the same score in the nightcap of the seven-inning twin bill.
Potomac has now captured four consecutive division titles following their 20th series victory in 2014.
The red, white, and blue were guided in the frontend matchup by Nationals starter, LHP Matthew Spann (9-5), who slung 6.0 scoreless stanzas and allowed just a single dumped into right field by Wilmington CF Bubba Starling and a double off the center field wall lofted by DH Michael Antonio.
Spann struck out a trio of Blue Rocks and did not walk a single batter on his way to win number nine. The lefty faced just two over the minimum.
Wilmington RHP Brooks Pounders (0-1) was touched for three earned runs on seven hits in 6.2 innings while the hurler walked a pair and struck out seven.
Pounders, who was hit with the loss, allowed a two-run double punched to the right-center field gap by P-Nats RF Estarlin Martinez in the 4th frame before SS Stephen Perez gashed a run-scoring two-bagger in the 5th that visited the same real estate.
Nationals RHP Gilberto Mendez (14 SV) entered out of the bullpen in the fireman's spot and closed out the division-clinching win in the 7th. Mendez induced Starling into a popout to 3B Khayyan Norfork, 1B Frank Schwindel skied out to CF Isaac Ballou, and RF Brett Eibner struck out swinging to seal Potomac's second crown of the '14 season.
In the second game, Nationals LHP Kylin Turnbull (3-3) fanned a season-high six batters and surrendered just one base hit, an infield single that barely bested the pitcher's mound off the stick of 3B Ramon Torres towards the second base bag.
Turnbull, while earning his third victory, did not walk a batter while working five grounds and five flyouts.
Wilmington RHP Johnny Walter (5-3) took his third loss after making it through just 4.2 frames. Walter gave up a two-run home run blasted out to the P-Nats' bullpen by 3B John Wooten on a 3-1 pitch in the 3rd. "Mr. Woo" cranked his third tater of the season with that swing which delivered DH Tony Renda, who knocked an infield single to the right side to get aboard.
Blue Rocks LHP Daniel Stumpf allowed one earned run in 2.1 innings on two hits and one walk.
Stumpf served up an RBI triple to Ballou to give Potomac a 3-0 lead in the 7th inning which was sprayed into the left-center field alley. Starling made a diving attempt on the lazer beam and he was unable to corral the baseball. Ballou's run-scoring three-bagger summoned home C Craig Manuel following the human backstop's leadoff walk.
In the bottom of the 7th, Nationals LHP Jake Walsh (2 SV) sidestepped a hit batsman, SS Raul Mondesi, to strike Starling out hacking, got C Zane Evans on a 6-3 groundout, and received a stellar sliding play from Potomac LF Randolph Oduber to preserve the shutout and wrap the twin bill sweep. Oduber raced to his gloveside right and went down into a spikes-first slide to snare the ball and seal the Potomac Nationals' tenth consecutive road win.
Potomac took their 20th series of the '14 journey and completed their fifth and sixth shutout victories, respectively.
The P-Nats are now (9-6) in games decided by three runs.
Thursday night will feature the fourth game of this five-game set pitting Potomac LHP Hector Silvestre (1-2, 5.40) against Wilmington LHP Jonathan Dziedzic (5-7, 2.65).