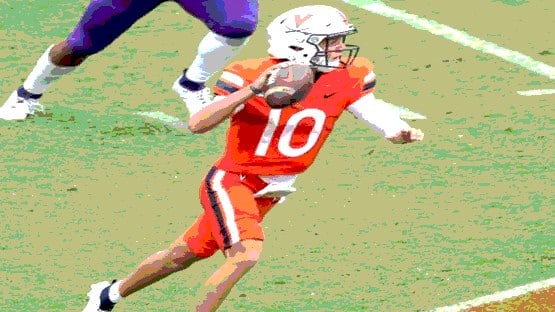 You can see where the QB controversy that UVA football coach Tony Elliott is creating with Anthony Colandrea and Tony Muskett is going to end up.
I'll get us there, but let me lay out the facts first.
Elliott has already made it clear that Muskett, the FCS transfer that he anointed the starter at the end of camp, will be the starter when he gets cleared by doctors.
This after Colandrea passed for 377 yards and two touchdowns in leading the UVA offense to its best output in Elliott's 12 games at Virginia in a 36-35 loss to JMU on Saturday.
That's the same Colandrea, incidentally, who was the better of the two in the spring game, then was said by Elliott, in the last week of camp, without prompting, to be "pushing" Muskett for the starting QB spot.
Muskett, who was a pedestrian 9-of-17 for 94 yards in the 49-13 loss to Tennessee in Week 1, is going to be hard to supplant using Elliott's reasoning, that a starter doesn't lose his job due to injury.
What about substandard play? The Muskett-led UVA offense only managed 201 total yards, most of that coming in garbage time, in the loss to the Vols, who then gave up 339 yards to Austin Peay, an 0-2 FCS team, in their 30-13 win in Neyland Stadium Saturday night.
Austin Peay QB Mike DiLiello passed for 260 yards against UT, going 29-for-39 with a TD and INT through the air.
DiLiello was able to do this despite Tennessee being in his face all night long, sacking him seven times.
Colandrea got the start in Week 2 with Muskett nursing a left shoulder injury suffered in the fourth quarter of the Week 1 loss.
The score was 42-10 Vols at the time. A program with more depth at QB – Muskett and Colandrea are the only two scholarship QBs on the roster – wouldn't have the starter in the game in the fourth quarter down 42-10 to get hurt trying to play through garbage time.
From the get-go in the JMU game, Colandrea brought life to the Elliott-Des Kitchings offense that it hadn't seen since the new regime took the reins.
The true freshman, a three-star recruit from the Tampa-St. Pete area, got Virginia on the board on the second offensive series, hitting Malik Washington in stride for a 63-yard TD pass.
He was 11-of-12 for 172 yards through the air in the first half, then on the first play of the third quarter, he connected with tailback Kobe Pace for a 75-yard TD pass that put UVA on top for the first time.
Colandrea finished the day with 20 completions on 26 pass attempts, the 377 yards, two TDs and one INT – behind an O line that allowed four sacks and six QB hurries, and couldn't get anything going for the running backs, with the ground game only accounting for 43 sack-adjusted yards on 31 attempts.
Basically, if the UVA offense was going to move the ball, it was going to be through the air; everyone in the stadium knew that, and Colandrea was still able to produce.
That should account for something, but the way Elliott does things, no, it actually doesn't.
Muskett will be the starter again once he is healthy, which could be as soon as this week's game at Maryland on Friday night.
Once Elliott goes this route, it's going to be hard for him to go back on the decision if Muskett struggles again.
In essence, Elliott could be backing himself into a corner in which he will feel the need to prove that he didn't make a mistake in making Muskett the only QB recruit off the portal after three-year starter Brennan Armstrong himself hit the portal, and that he didn't make a mistake in naming Muskett the starter at the end of camp when it was apparently becoming obvious that Colandrea was ready to step up and be the guy.
The best-case scenario here is for Muskett to play so well that nobody asks another question about it.
Life being what it is, what ends up happening is likely to be at least some degree of suboptimal.
One way this maybe ends up: I can't take credit for this; a good friend and fellow UVA alum suggested on a phone call that we have to consider the nature of the transfer portal in today's day and age.
This would be the worst-case scenario: that we get one game of Colandrea at UVA, before he decides to move on.
The case there: Colandrea has made it known that he felt like he was underrated (as a three-star) and under-recruited, with the bulk of the interest in him coming from the Group of 6 and FCS schools.
If Week 2 ends up being his only complete game week in 2023 – prepped to be the starter, starting, playing all four quarters – he has a couple of things working in his favor in December.
One, he has a 377-yard, two-TD, ACC Rookie of the Week game tape for coaches to use to reconsider how it was they somehow overlooked him in high school.
Two, he wouldn't lose the year of eligibility, so, he has four years as a plug-and-play.
This should be something to at least consider if you're Tony Elliott, who is in desperate need of something to be able to show in terms of foundation for what he has done at Virginia to this point, which honestly isn't much.
We've only seen one game of what Anthony Colandrea can do, but what we saw suggests that he could be the first big foundation piece for Elliott to build from.
But that's assuming Colandrea hangs around.