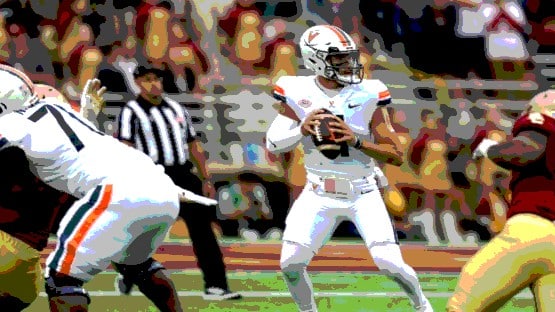 For an 0-5 football team, Virginia has one thing working in its favor – two quarterbacks who seem like they can get the job done.
Tony Muskett, who edged out true freshman Anthony Colandrea in the final week of training camp to get the starting job, returned last week after missing three games with a left shoulder injury, and looked good in the 27-24 loss at Boston College, throwing for 247 yards and three TDs.
Colandrea, who was competing for the #3 spot on the depth chart in the spring, put up nice counting numbers in his three starts, averaging 303.8 yards passing per start, with a 61.8 percent completion rate and five TDs, the one drawback being his six INTs.
They're basically interchangeable, which gives coach Tony Elliott stability, on a depth chart that doesn't have a lot of stability.
"That's the beauty of having guys that can compete at a high level at the same position. You've got to manage the situation, just like you do at any other position. So far, based off of what we thought, we feel good about what we've got," Elliott told reporters at his weekly press conference on Tuesday, ahead of Virginia's game with William & Mary (4-1), which is ranked #9 in this week's FCS Top 25.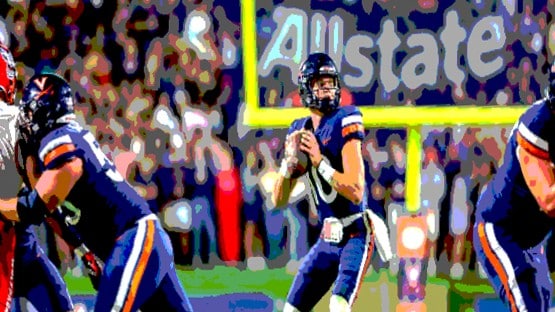 My colleague Jerry Ratcliffe, the dean of UVA sportswriters, suggested on this week's "Jerry Ratcliffe Show" podcast that the interchangeability should give Elliott the chance to use both guys depending on the game situation, then opined that Elliott maybe should have gone with Colandrea for a series or two in the second half of last week's loss at BC, as Muskett struggled, going 6-of-13 for 29 yards and an INT as the UVA offense bogged down.
Elliott, for now, at least, is resisting going that route.
"You've got to take the good with the bad. It's an opportunity for all of us as a program, but him in particular, to learn from some things we could have done better in the second half to get us over that hump, to be able to experience what these guys are so desperate to experience, and that's that joy in the locker room after a victory," Elliott said.
That's something the Virginia program hasn't enjoyed in quite a while. UVA's last win came on Oct. 20, 2022, in a 16-9 victory at Georgia Tech.
The 'Hoos have lost eight straight, the program's longest losing skid since 2013, and the 0-5 start is the first for Virginia dating all the way back to 1982, the first year of George Welsh's illustrious career at UVA.
They've been close – a 36-35 loss to JMU in Week 2 in which the Cavaliers gave up two fourth-quarter TDs to the Dukes; a 24-21 loss to NC State in Week 4, on a walk-off field goal; last week's loss in Chestnut Hill, after going into the half up by two touchdowns.
There's lots else that needs to be fixed to get over the hump, but the 0-5 start isn't a function of poor QB play, at least.