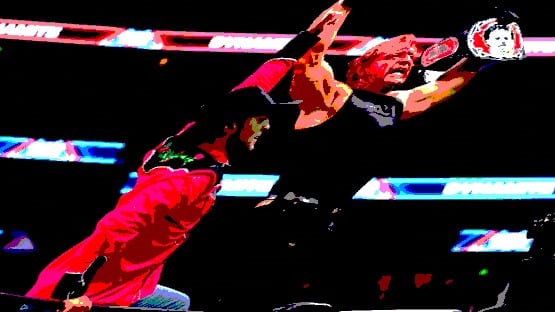 AEW, frankly, embarrassed itself, its fans and the wrestling business with its shameless attention-grab "Texas Chainsaw Massacre" match on this week's "Dynamite."
Not even donating the $100,000 that the company got from the makers of a video game based on the horror-movie franchise to Maui fire relief can make the stink go away.
And for that matter: $100,000?
That's what 15 minutes of "Dynamite" is worth to Tony Khan?
Seriously?
(The sound you hear is me contacting my investment advisor, while trying to figure out what I'd spend $100,000 promoting.)
The premise of the match was bad enough, and I'll give Khan credit for trying to make the best of it by having two veteran guys, Jeff Hardy and Jeff Jarrett, to make it as presentable as possible.
But then the way it was booked – with any number of run-ins, including one guy made up to be Leatherface – was just ridiculous.
It was as carny, cartoony WWE as you can imagine.
How bad was it?
The WCW RoboCop called, and he wants an FTW title shot next week.
Interesting challenge with MJF-Adam Cole storyline
Khan has really booked himself into an interesting corner with the MJF-Adam Cole angle. I can't imagine that Khan thought it would go off as well as it has; it seemed at the outset to just be a way to get two enemies to have to be a tag team, with the end result being the main event at "All In."
Except that, the tag team is over as much as anything AEW has done in its four-year history.
The logical conclusion, one turning on the other in the AEW title match in Wembley, would also kill off a grouping that is pushing ratings and merch.
Don't be surprised if Khan tries to keep them together for a while longer, to let things more naturally come to an end.
How he would do that is the hard part.
I like this idea for FTR-Young Bucks
Brian Last, the co-host of Jim Cornette's top-rated weekly wresting podcasts, has laid out the two ways the FTR-Young Bucks match at "All In" has to end, and I agree with how he sees this one.
One, The Young Bucks put themselves over, because they're The Young Bucks, and they have the power of the book, and want to be able to brag about beating FTR in front of 80,000 screaming fans.
Two, the Bucks agree to do the job, but not clean, and the not clean part has CM Punk interfering on behalf of FTR.
The second one gives us a few days to build toward something even bigger for "All Out" in Chicago, Punk's hometown.
Intriguing, that second one.
I'll throw in a third possibility: the Bucks go over in Wembley, agreeing ahead of time to give the belts back to FTR in Chicago.
I think this last one is the most likely.
But, man, the second one, if only we could be so lucky.