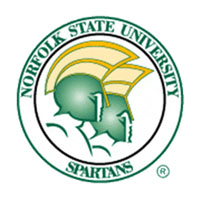 The Norfolk State men's basketball program and head coach Robert Jones announced the signing of three players to national letters of intent in the early signing period.
Forwards Chris Ford and Tyrek Williams, both out of L.C. Bird High School near Richmond, and local guard Joe Bryant Jr. from Lake Taylor High School will join the Spartans in 2018 as part of NSU's upcoming recruiting class.
"We are very excited to sign these three standout student-athletes," said Jones. "All hail from the state of Virginia, an area we have been trying to tap into for a few years now and an area we are making some good inroads.
"We feel this class, in addition to C.J. Kelly being eligible next season after sitting out, will be one of our best freshman classes to date. We are excited about the future of NSU basketball."
The 6-foot-2 Bryant was named the Conference 17 Player of the Year as a junior in 2016-17 at Lake Taylor and earned first-team All-Tidewater honors from the Virginian Pilot. He led the Titans to the conference regular season and tournament titles and a 20-4 overall record while averaging 17 points, six rebounds, five assists and three steals per game.
In addition to the player of the year award, Bryant was named first-team All-4A East Region and second-team 4A All-State. He averaged 12 points, six rebounds and four assists his sophomore year, leading Lake Taylor to the VHSL (Virginia High School League) state championship game and a 24-5 overall record. Bryant has competed for the Boo Williams and Team Loaded 757 AAU programs in the past. He also played on Lake Taylor's football team that won the state championship in 2014.
"Joe is a hometown favorite from right here in Norfolk," stated Jones. "He is a tremendous talent, evidenced by his player of the year accolade last season. Joe has playmaking ability and a toughness about him that is unmatched. To be able to keep a local talent like him here at home was important for us."
Ford and Williams, both 6-8, will fill immediate needs for the Spartan program, which is expected to lose all but one of its frontcourt players after this season. Williams averaged eight points and six rebounds per game last year as a junior, leading a guard-heavy L.C. Bird to the VHSL 5A state championship title over Bethel High School and a 27-1 overall record. It marked the school's first-ever state title.
Ford missed his entire junior season with the Skyhawks due to injury a year after Williams missed most of his sophomore year due to injury.
"Tyrek has the potential to be an absolute star," exclaimed Jones. "At 6-8, he is very mobile, extremely tough down low, and can stretch out to 15 feet. He is a very solid defender and a quality rebounder. Although he will be just a freshman next year, we expect him to contribute immediately. Coming from a solid program like L.C. Bird where he was a state champion should pay dividends as well. Our goal is to recruit winners.
"At 6-8 as well and super athletic, Chris' future is definitely ahead of him," Jones added. "He is still raw due to starting basketball at a late age, but his tremendous work ethic has helped him make up ground. He is a shot blocking, rebounding machine at such a young age. His offensive game is still a work in progress, but defensively he will be ready. Also hailing from L.C. Bird, he will bring that winning mentally."
Both players made big impacts on the AAU circuit. They both competed for the River City Reign AAU travel team, with Ford making a name for himself in the BIG SHOTS All-American Camp and at BIG SHOTS Myrtle Beach Live. Williams, meanwhile, was named an All-Star in the U-17 division of the BIG SHOTS VA Memorial Tournament.
Ford also led the Victor Oladipo Skills Camp in field goal percentage and competed in the Adidas Select Session VI in Richmond. Williams saw time this summer with the Team Loaded VA team.
NSU could have as many as six or seven scholarships available for the 2018 recruiting class.