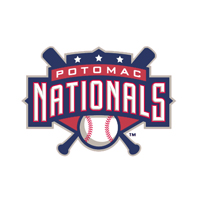 The Potomac Nationals (33-28, 17-12) could not complete a three game sweep against the Wilmington Blue Rocks (30-31, 14-16) as they fell 10-4 on Sunday afternoon at Pfitzner Stadium. Wilmington used a nine-run fifth inning to put Potomac away early.
RHP Glen Sparkman (W, 3-1) put together five innings of scoreless baseball for the Blue Rocks who gave him the run support just in time to allot him the win. RHP Zeb Sneed (Sv, 1) came in for the rare four-inning save to close out the game. Sneed gave up the four runs on five hits in his save effort.
Wilmington's nine-run inning was facilitated by six consecutive RBI hits with one out in the fifth. SS Raul Mondesi, CF Bubba Starling, 3B Hunter Dozier and C Zane Evans each knocked in runs before DH Michael Antonio stepped up to the plate against RHP Wander Suero who replaced Spann in the inning. Antonio smashed a fastball to left-center for his second home run of the season. The next batter, 1B Mark Donato, made it hurt going back-to-back with a solo shot to center.
Wilmington's nine runs in the inning were the most all season in one inning for the squad. Before the series in Woodbridge, the Blue Rocks had scored ten runs just twice all year. They did it two times in the series.
The Nationals tried to rally up some runs in the later innings with two in the sixth and two in the seventh. LF Randolph Oduber doubled to left with one out in the sixth to score 2B Tony Renda. DH Oscar Tejeda was waived around third on the play but was gunned down at home for the second out of the inning. CF Will Piwnica-Worms slapped a single to right field to plate Oduber making it a 9-2 game.
After a Dozier solo bomb in the top of the seventh, Renda scored C Pedro Severino with a double. He was then brought in by a SS Stephen Perez sacrifice fly. Sneed retired the next seven P-Nats batters to close out the game.
The Potomac Nationals Baseball Network, which is accessible at www.potomacnationals.com, will broadcast the first of a three game series at Carolina on Monday, June 9th. Broadcast coverage will begin with the P-Nats Leadoff Show at 6:45pm in preparation for the 7:00pm first pitch. RHP Brett Brach (1-0, 1.64) will make his third start of the season for Potomac. The Mudcats' starter is TBA.