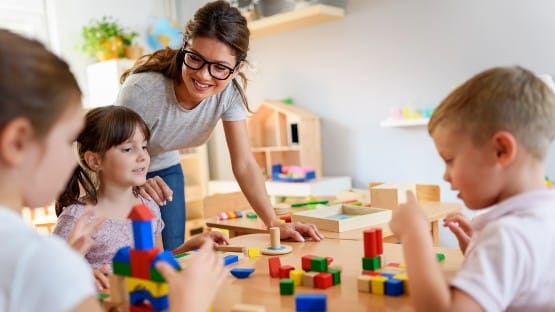 Days away from American Rescue Plan Childcare Stabilization grants expiring, lawmakers are joining forces to introduce legislation.
Congresswoman Jennifer McClellan of Virginia joined Democratic Whip Katherine Clark of Massachusetts, Sens. Patty Murray of Washington and Bernie Sanders of Vermont, Reps. Rosa DeLauro of Connecticut, Bobby Scott of Virginia, Suzanne Bonamici of Oregon, Jamaal Bowman of New York, Jimmy Gomez of California, Sara Jacobs of California, Mikie Sherrill of New Jersey, and more than 70 House Democrats and 30 Senate Democrats introduced landmark legislation on September 13 to invest in the childcare industry and stave off the impending childcare cliff.
More than 3.2 million children could lose childcare spots and more than 70,000 childcare programs likely close on September 30, according to a report by The Century Foundation, if Congress does not act.
"Our nation faces a childcare crisis caused by skyrocketing costs and a systemic lack of investment in the childcare sector and early childhood education. That crisis will only worsen if Congress does not take action to address the looming childcare cliff on September 30th," McClellan said. "As a mother to two young children and a long-term advocate for early childhood education, I am proud to stand alongside Whip Clark and my House Democrat colleagues as an original cosponsor of the Child Care Stabilization Act. It is imperative we take immediate action to support the childcare workforce and ensure parents and families have access to the support they need."
The Child Care Stabilization Act extends Child Care Stabilization grants at $16 billion per year through fiscal year 2028.
McClellan is a member of the Bipartisan Congressional Childcare and Pre-K Caucus and a cosponsor of the Childcare for Working Families Act, the Building Housing with Care Act, the After Hour Child Care Act, and the Child Care Infrastructure Act. While in the Virginia State Senate, she championed passage of the Child Care Stabilization and Quality Care Act to provide greater financial stability and support to early childhood educators and childcare providers.