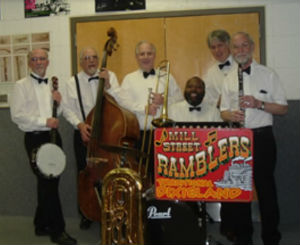 WTA's Gateway has become known for its Custin Jazz Series.  National jazz artists have brought everything from the great American songbook to Cool Jazz sounds to the Gateway's audience.  Now the series brings the fountainhead of American jazz.  On Saturday, the Mill Street Ramblers Dixieland Band will perform the music that made New Orleans famous.
The Mill Street Ramblers delve into America's musical heritage from its source – traditional Dixieland jazz from its birthplace, New Orleans. With almost 200 tunes in their book, the Ramblers cover a variety of rags, 2 beats, marches, slow drags and 4 beats from the early days up until the '40s and '50s with tunes made popular by later stars like Louis Armstrong, Pete Fountain and Al Hurt. Past audiences were unable to sit still when these guys rip into tunes like When The Saints Go Marching In, Tiger Rag, Sweet Georgia Brown or Muskrat Rambler.
The Saturday, Oct. 19 performance is at 8:00 pm at WTA's Gateway, 329 West Main, in Downtown Waynesboro.  The doors open at 7:30 pm.
Tickets are available online at www.wtagateway.com or by calling 540-943-9999.  Remaining tickets will be available at the box office on the night of performance