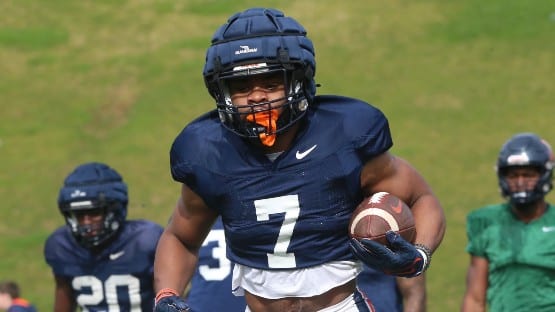 You might need a reason to get excited about Virginia football heading into next season. I've got your reason: Mike Hollins.
Hollins was the guy that you couldn't figure out why he wasn't getting more snaps at tailback, because every time you saw him, he looks like the kind of guy who could carry a team.
Five-nine, a tightly-packed 209 pounds, Hollins is a central casting college tailback who somehow got a grand total of 123 carries in his first three seasons in the Virginia backfield.
The football part of Mike Hollins isn't the reason I'm excited about Virginia football next season.
Dude is a living, breathing hero – he went back on the bus as shots were ringing out on Nov. 13, after leading people to safety, and confronted the guy who had opened fire on his classmates, who then shot Hollins.
The shooter, Chris Jones, 23, a UVA student, had already killed three of Hollins' teammates – Devin Chandler, Lavel Davis Jr. and D'Sean Perry.
It's by the grace of God that Hollins wasn't the fourth.
He was on a ventilator, but on Day 2 in the hospital, he got out of bed, surprising a nurse, who wondered how he'd done it, and then was told by his doctors that he wouldn't be able to put on his socks by himself for four to six months.
Four months was last Monday. Last Tuesday, Hollins was at football practice, after putting his socks on, and his cleats.
It hurt at first for him just to eat, considering his injuries – the bullet damaged his kidneys and small intestine.
Bending over was a chore because of the stitches and staples.
"Football was the furthest thing" from his mind at the outset, but it's where he ended up gravitating back to, for probably obvious reasons.
"If I wasn't able to join my teammates again on the field or strap my helmet up again, I do believe mentally recovering would be a lot more tedious, and I would have to find new ways to cope and to just recover, because getting out here on the field is just freedom for me. It's freeing for me. It's, I don't have to think, I just play," Hollins told reporters on Tuesday, a week into Virginia's 2023 spring practice schedule.
"I expected to recover physically already, so it really wasn't on my mind, How am I gonna get back, it was more of man, How am I gonna even make it to practice without calling D'Sean or, you know, just the little things. It was more the mental. It was never ever physical for me, because I always expected to be able to squat what I used to squat or power clean when I used to power clean or running as fast as I used to. But it's the things that I couldn't change that bothered me the most," Hollins said.
Hollins survived that night, the next couple of days, he put on his socks, got back in the weight room, he's back practicing with the team, and he's going to be the guy to carry the flag into Nissan Stadium in Nashville when Virginia opens the 2023 season against Tennessee in September.
Wow.
Just, wow.
The guy lost his best friend, Perry, two brothers, had his own life flash before his eyes, and he's back out there, inspiring his teammates, and the rest of us.
"It is literally a miracle that I'm here today, and I'm just living that out," Hollins said. "My mom tells me be a blessing to others, make someone smile, make someone's day every day, and just spread my blessing. So, that's what I try to do."
It doesn't matter how many carries he gets, how many yards, how many touchdowns.
OK, we're all hoping that the story includes at least one Mike Hollins touchdown this season.
It has to, right?
Virginia, news flash, isn't going to challenge for a national title in 2023. A bowl bid seems a reach.
None of that matters.
They're going to get back out there.
Mike Hollins is going to be back out there.
After what happened on Nov. 13, that's a victory in itself.