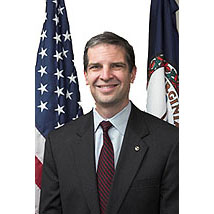 As dawn's rays swept across the horizon on another September 11th, we awoke to difficult choices about another threat to peace and stability. Our country grapples with grave questions about confronting another extremist group with violent, expansive ambitions.
It has become the new normal: struggling to identify the correct response to atrocities committed on foreign soil and working to ensure that they will not happen again here.
Thirteen years ago, the world changed, and we changed with it. In some ways, we're still discovering how. September 11th, 2001 is a day for which time stands still, for which the past is never dead, and not even past. It echoes down the years; it calls us to remember.
We are a changed nation because of September 11th. But I am the proudest of the ways in which we haven't changed. As a nation and a people, we did not yield, we did not cower, and we did not give up on what makes America great, nor what makes her good.
With new threats always looming, maintaining America's security and her greatness requires eternal vigilance—against threats from abroad, and threats to our liberties here at home.
On this day, let us set our sights on those ideals that set America apart in the world. Freedom. Liberty. Justice. Let us as Americans continue to fight for these principles, even—especially—in the face of new and frightening threats.
We are reminded today of our great debt to those who serve. In the thirteen years since the September 11th attacks, much has been required of our brave men and women in uniform, and they do our nation great honor. Many have sacrificed—far too many have given their lives—in service to country, so it is fitting that today, we pause to honor those fighting for our freedom, along with the first responders who saved countless lives a decade ago.
To those who lost their lives on September 11th, 2001, and to those who risk their lives to defend us, we owe an America that remains true to her founding principles, for whom liberty is the byword ever and always. We don't always live up to this obligation, as individuals or a nation, but today, let us renew that pledge in solemn tribute. Let it be our enduring memorial.
Mark Obenshain is a Virginia state senator from Harrisonburg.