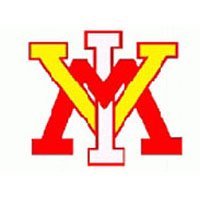 The Marist Red Foxes shot 64 percent from the field, led by Chavaughn Lewis' 30-point, 16-rebound night, en route to a 112-74 win over the VMI Keydets Saturday night in both teams' Ramada Worldwide Bracketbuster game in Poughkeepsie, N.Y.
The Keydets (11-16) led early in Saturday's proceedings, but after taking the lead for good less than two minutes in, Marist (8-20) blew the game open with a 36-9 run, taking a 32-point lead at 52-20. The Keydets battled back to cut it to 16 early in the second half, but Marist was able to gradually pull away throughout the final period to ensure the victory.
VMI was led in defeat by D.J. Covington, who had 18 points in just 20 minutes of action, as he battled foul trouble throughout. Covington also made his first career three-pointer in the loss. Stan Okoye added 14 points and Dorian Albritton chipped in 11 points.
The Red Foxes snapped a two-game losing streak by shooting 64.1% from the floor including a 21-of- 32 clip in the first half and six-of-12 shots behind the arc. Marist finished with 12 treys for the game and drained 18 of 27 from the stripe. The Red Foxes outscored VMI in the paint 44-30 while holding a 47-33 advantage in rebounding and 19-4 count in fast break points.
The Keydets entered the game shorthanded as starting point guard Rodney Glasgow missed his third straight game with a groin pull while starting shooting guard Brian Brown was limited to seven minutes of action in his first half from a stomach virus.
Covington picked up his third four with 9:42 remaining in the opening half, but played enough to hit 8 of 13 from the floor including his first career three-pointer shortly after intermission.
The Keydets jumped to an early 5-2 lead when guard Tim Marshall hit a 3-pointer from the right corner at the 18:54 mark of the opening half, but Marist guard T.J. Curry responded with a trey and lay-in to give the Red Foxes a lead they would never relinquish. The Keydets trailed by seven (20-13) at the 14:12 mark before the hosts reeled off nine quick points to lead 29-13 on an Adam Kemp jumper. Covington exited the game with his third foul shortly after and the Red Foxes ripped off an 18-3 run capped by an Isiah Morton layup to take their largest lead of the half, 50-18 at 3:48. with Lewis fueling the run with nine points.
Covington was reinserted into the lineup seconds later and helped jump start a 17-4 VMI comeback which trimmed the deficit to 17 points, 54-37 on a Christian Burton 3-pointer with :28 left.
VMI trailed 56-37 at the break and opened the second half with an Albritton 3-pointer to pull within 56-40, but that would be as close as the Keydets would get the rest of the night. VMI still trailed by just 17 when Nick Gore pushed a 3-ball in from the right wing at 13:39, but Marist pulled away with a 19-6 spurt as Price capped the run with a lay-in to push the Marist lead back to 30 points, 90-60.
Price, who had been sidelined six Marist games for an ankle injury sustained in mid-January scored all of his 20 points in the second half of his first game return to action.
VMI finished BracketBusters competition 1-2 over its three years of participation and resumes Big South action Tuesday night when it faces North Division rival Liberty Tuesday night in Lynchburg. Tipoff at the Vines Center will be 7 p.m.
Head Coach Duggar Baucom –
"Credit Marist, they played great. When D.J. Covington was in the game he was pretty good, and it was pretty even when when he was in – we cut a 32-point deficit with 15 points in 3:40, and a lot of that was because he was on the floor. He was certainly the most productive for us tonight."
"I've got great guys and we've been through a little adversity and it started at Campbell last week. It's no excuse to get your brains beat in by 40 , but I still love my guys and the main thing that matters is next Tuesday night (Liberty). We have as much basketball left as those guys in our locker room decide we have left. You hope they get a sense of urgency. Guys have to step up and play and we're just not doing that right now."