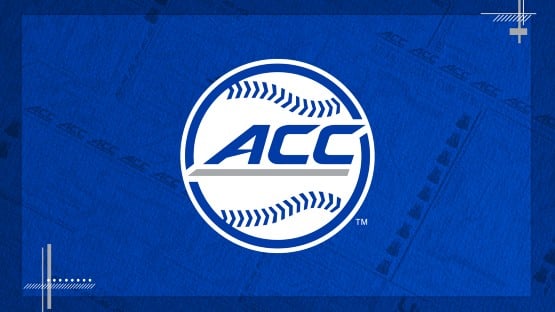 Louisville, Wake Forest, Miami and Virginia are the favorites in the ACC in the upcoming 2023 baseball season.
Louisville edged Wake Forest in the coaches' vote for the likely Atlantic Division champion, while Miami was the Coastal Division favorite with Virginia slotted in second place.
Louisville placed atop the Atlantic Division last season, while Wake Forest was third. Miami finished second in the Coastal Division, one game behind first-place Virginia Tech. All were among the ACC's nine-team NCAA tournament contingent, which tied for the most of any conference.
Ten ACC teams have been ranked in at least one major poll during the 2023 preseason, and 19 different ACC players have been named to at least one preseason All-America Team.
The ACC has placed at least one team in each of the last 16 College World Series and at least six teams in each of the last 18 NCAA tournaments.
All 14 ACC baseball teams open their seasons on Friday, February 17, with conference play set to begin on Friday, March 10. The 15-game ACC Baseball Championship will be held May 23-28 at Durham Bulls Athletic Park in Durham, North Carolina.
ACC Network will be on hand for the first five days of the tournament, with ESPN or ESPN2 set to carry Sunday's championship game.
Full tournament ticket books are now available at DurhamBulls.com or by calling the Durham Bulls Box Office at 919-965-BULL (2855). Please see here for the direct link to online ticket sales.
2023 ACC Baseball Coaches Preseason Poll
First-place votes in parenthesis
Overall ACC Champion
Louisville (6)
Wake Forest (6)
Clemson (1)
Virginia Tech (1)
Atlantic Division
Louisville (6) – 89
Wake Forest (6) – 84
NC State (1) – 58, Florida State – 58
Clemson (1) – 47
Notre Dame – 38
Boston College – 18
Coastal Division
Miami (10) – 93
Virginia (2) – 75
North Carolina (1) – 72
Virginia Tech (1) – 64
Georgia Tech – 45
Duke – 26
Pitt – 17