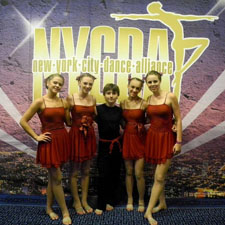 Old Dominion Performance Arts Studio dancers just returned from a trip to New York City for a Nationals competition and workshop.
Dancers participated in Broadway show auditions for "Newsies" and "Flashdance" (in which one of our dancers made it through the first cut). They auditioned for the TV show "Smash" and for the world famous Cirque du Soleil (where two of our dancers were recognized by the Cirque casting director).
In addition to these auditions, they also took classes with some of the best in the industry, participated in scholarship auditions (which at this nationals event over $2 million in college scholarships was awarded!), and took part in the nationals competition with three solos and one group dance (all of which they performed very well).
One of our dancers, Donovan Mellon, represented us as a regional 'Outstanding Dancer Scholarship winner' and therefore spent a great deal of time in NYC in additional auditions, adjudication, and rehearsals – all as a candidate for the national title of Teen Male Outstanding Dancers Scholarship Winner (which includes touring with NYCDA next year as an official demonstrator, expenses paid!).
While he did not receive the scholarship – he represented himself, our studio and community very well in this exceptionally high level environment of the dance community!
– Report submitted by Dulcey Fuqua, owner, Old Dominion Performance Arts Studio