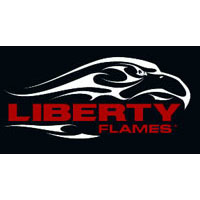 Liberty will open up its 2016 spring football practice schedule, next Tuesday, at Williams Stadium at 2:15 p.m. The afternoon workout will be the first of 15 practices for the Flames during the following four weeks.
The Flames' 15-practice spring workout schedule will be highlighted by Liberty's annual Spring Football game on April 16. Kickoff for the intrasquad scrimmage is set for 2 p.m. at Williams Stadium.
All Liberty University football practice sessions, outside of the annual spring game, are closed to the general public and the media, unless otherwise indicated by the Athletics Communications office. This policy includes practice sessions in Williams Stadium, as well as, the practice fields adjacent to the Williams Football Operations Center (FOC).
Media groups wanting to photograph or shoot video footage of a Liberty University football practice can do so with prior permission. Approved media groups will be allowed to shoot Liberty University football practice from the time the team takes the field through the team stretching period (typically the first 15 minutes of practice). Media groups will be asked to stop shooting practice following the team stretching period and to leave the practice area.
Fifth-year head coach Turner Gill, his assistant coaches and players will be available for interviews following each of Liberty's weekday spring practice workouts.
2016 Liberty Spring Football Practice Schedule
Practice #1 –

March 22

(Tuesday) –

2:15 to 5 p.m.

Practice #2 – March 24 (

Thursday

) –

6:45 to 9:30 p.m.

Practice #3 – March 26 (

Saturday

) –

10 a.m. to 12:15 p.m.

Practice #4 – March 29 (Tuesday) –

2:15 to 5 p.m.

Practice #5 – March 31 (

Thursday

) –

6:45 to 9:30 p.m.

Practice #6 – April 1 (

Friday

) –

4:20 to 6:40 p.m.

Practice #7 – April 2 (

Saturday

) –

2:30 to 4:15 p.m.

Practice #8 – April 5 (

Tuesday

) –

2:15 to 5 p.m.

Practice #9 – April 7 (

Thursday

) –

6:45 to 9:30 p.m.

Practice #10 – April 8 (

Friday

) –

4:20 to 6:40 p.m.

Practice #11 – April 9 (

Saturday

) –

2:30 to 4:15 p.m.

Practice #12 – April 12 (

Tuesday

) –

2:15 to 5 p.m.

Practice #13 – April 14 (

Thursday

) –

6:45 to 9:30 p.m.

Practice #14 – April 15 (

Friday

) –

4:20 to 6:40 p.m.

Practice #15 – April 16 (

Saturday

) –

2 p.m.

(Flames Annual Spring Football Game)