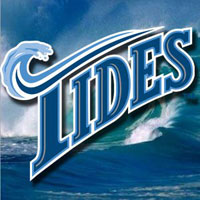 Mitch Atkins made one mistake Monday night at Harbor Park, and it cost the Norfolk Tides as they fell to the Charlotte Knights 4-3 in front of 3,654 fans.
Pitching with a 3-2 lead in the 7th inning, Atkins (3-7, 5.20) gave up a two-out, two-run home run to Gookie Dawkins that proved to be the difference in the game. Atkins had been cruising at that point, striking out 10 of the previous 16 batters he faced prior to the inning. He finished the game with a season-high 11 strikeouts while walking just one batter.
The Tides took the lead a half inning prior on an RBI single from Felix Pie that found its way into the outfield after going under the glove of three different infielders, including pitcher Gregory Infante. The single plated Tyler Henson who had led off the 6th inning with a double.
Infante (1-4, 3.30) tossed 2.0 innings and allowed just the one run on three hits. He picked up the win in relief of Joe Serafin who gave up two runs on seven hits in 5.0 innings after being staked to an early 2-0 lead.
The Knights scored twice on Atkins in the 1st frame before the Tides starter locked in. Justin Greene led off the game with a single to left field and moved to second base on a sacrifice bunt. Following a one-out walk, Dallas McPherson put Charlotte on the board with an RBI groundout that Atkins took himself. The Knights scored their second run on a throwing error by Blake Davis at shortstop that allowed Jim Gallagher to score from second base.
The Tides came back with two runs in the 5th inning to tie the contest. Kyle Hudson started things for the home team with a single and moved to second base on a walk by Pie. Brandon Snyder came through with an RBI single that cut the deficit in half and Rhyne Hughes tied it up with an RBI single that deflected off Serafin's glove and scored Pie from third base.
Addison Reed picked up his second save with two scoreless innings. He allowed one hit while striking out one.
The Tides got 2.0 scoreless innings from Clay Rapada and Jeremy Accardo. Each pitcher gave up a hit while Accardo walked two and struck out three.
The Tides and Knights will close out their 2011 season series Tuesday at 7:15. RH Steve Johnson (2-6, 5.79) will take the hill for the Tides opposite RH Phil Humber (0-0, N/A) who will be making a Major League rehab start for Charlotte.