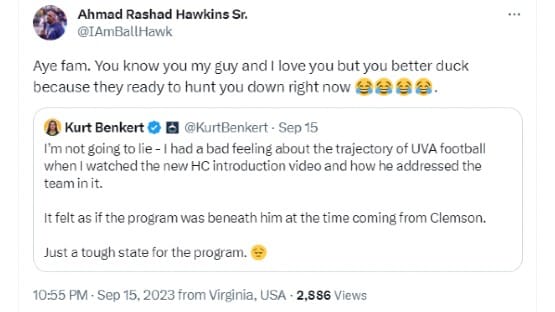 UVA Football alum Kurt Benkert took to Twitter to share critical thoughts on the state of the program. You can guess who appointed himself to police Benkert's comments.
"You know you my guy and I love you but you better duck because they ready to hunt you down right now."
Yep, this was Ahmad Hawkins, UVA Athletics contract employee, in game football analyst and sideline reporter, telling Benkert, a former 'Hoos QB and NFL veteran, that he was about to be hunted down for daring to question the direction of the football program.
This was Benkert on Twitter on that point:
"I'm not going to lie – I had a bad feeling about the trajectory of UVA football when I watched the new HC introduction video and how he addressed the team in it. It felt as if the program was beneath him at the time coming from Clemson. Just a tough state for the program."
Yeah, seems appropriate for somebody who gets paid by UVA Athletics to warn Benkert that he would get hunted down for saying that out loud.
(Eye roll.)
This isn't a "disagreement" between two people with different points of view, because we don't even have a point of view from Hawkins here.
Just a veiled threat.
"Duck," because "they ready to hunt you down."
This is what UVA Athletics pays for, folks.