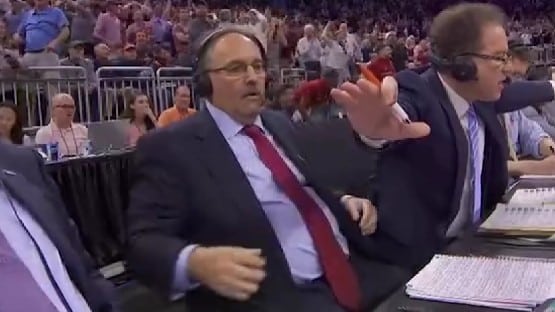 Kevin Harlan is "embarrassed" that a CBS camera caught him almost falling off his chair at the dramatic end to the Virginia-Furman NCAA Tournament game last week.
I'm a little embarrassed as well.
That's me, in the background, in the pink shirt, looking like I'd seen a ghost.
"It is 110 percent organic, because you're so lost in the game, sincerely, the last thing you're thinking about is that a camera's on you," Harlan told Richard Deitsch of The Athletic, the host of the "Sports Media with Richard Deitsch" podcast.
Harlan told Deitsch on the podcast that he didn't know the network had footage of his reaction, which has gone viral since CBS shared it across its social media platforms.
"DID WE JUST SEE WHAT WE THINK WE JUST SAW?!"

Kevin Harlan nearly FELL OUT OF HIS CHAIR. Dan Bonner and @realStanVG were STUNNED.

The crew's reaction to Furman's dramatic win over Virginia was incredible. pic.twitter.com/Jym88PALq8

— CBS Sports (@CBSSports) March 20, 2023
"Kind of embarrassed by it," Harlan said. "I'm not comfortable with it. I understand why CBS would want to use that, and I guess I trust my bosses more than I trust myself in this situation."
I was totally aware of the camera that Harlan didn't seem to notice.
It was why I wore the pink shirt with a rainbow-colored Mickey Mouse pin, which I moved from one side of my shirt to the other when my wife texted me to tell me that she couldn't see it.
I wanted to show some dissatisfaction with the governor down there about how he's making LGBTQ+s into second-class citizens.
Mission: accomplished there.
And then the same camera that registered that for me, and caught Harlan almost falling off his chair, also got me seeing that ghost of 2018.
I'm just glad there's no video of me from that night in Charlotte.