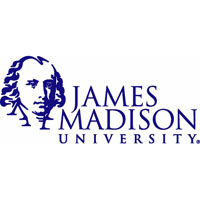 Dr. Ronald Carrier, president emeritus of James Madison University, will be among the speakers at 10:30 a.m. Friday, Sept. 23 to celebrate the reopening of the original front doors of Carrier Library.
The doors, which face the Centennial Fountain on the west side of the building, have been closed since March 1982, when an addition to the library was completed. The event will also celebrate other space updates in Carrier Library and in Rose Library on the campus east of Interstate 81.
Refreshments will be served outside the historic entrance at 10 a.m. More refreshments and a self-guided tour of the new spaces in Carrier Library will be available following the remarks.
The Carrier Library building opened in 1939. Originally named Madison Memorial Library, it was renamed in 1984 to honor JMU's fourth president, Dr. Ronald E. Carrier, and his wife, Edith.
Other speakers will be Dr. Adam Murray, dean of JMU Libraries and Educational Technologies; Dr. Jerry Benson, provost; Jonathan Alger, president; and Matthew Mueller, president of the student government association.