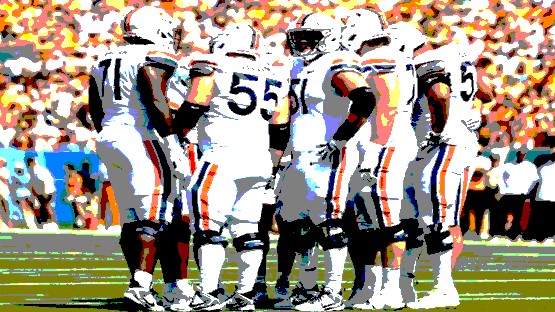 Virginia, with its starting-QB situation up in the air, is going to need to be able to run the ball against the JMU front.
"Tony is day to day," UVA coach Tony Elliott said of the other Tony, Tony Muskett, his starting quarterback coming out of training camp, who went down with a left shoulder injury in the fourth quarter of last week's 49-13 loss to #9 Tennessee.
Muskett, who was a pedestrian 9-of-17 for 94 yards in the loss, "wants to play, he is pushing to play," said Elliott, who told reporters on Tuesday that the Monmouth transfer will be a game-time decision.
The backup is a true freshman, Anthony Colandrea, who took over for Muskett after the injury and led the 'Hoos on a late scoring drive – a 10-play, 47-yard march that led to a 40-yard Will Bettridge field goal with 39 seconds left.
Behind Colandrea, the pickings are slim. If Muskett isn't able to go, the backup to the frosh would be Grady Brosterhous, a no-star recruited walk-on sophomore from the Class of 2022, with Jared Rayman, a fifth-year from Atlanta who was also a no-star recruit, and hasn't taken a snap at QB since his last high school game in 2018, at #3.
Elliott indicated in his Tuesday presser that he may also need to move Delaney Crawford, a three-star sophomore from California who moved to wide receiver in training camp, back to QB to boost the depth chart there.
With the uncertainty about who will be behind center, Elliott, who has wanted to get more from his ground game anyway, will want to get more productivity this week in particular from that unit, which produced 117 sack-adjusted yards last week, which sounds, not good, but OK, except that 114 of those yards came after the game was at 35-3 midway through the third quarter, so, basically, garbage time.
The UVA O line, on paper, has a size advantage relative to the JMU front – averaging 300.8 pounds across the line, to the JMU front four's 266.8 pounds.
The JMU defense uses a 4-2-5 alignment, with two smallish linebackers – 218-pound will linebacker Jailin Walker and 214-pound middle linebacker Taurus Jones.
Walker and Jones have sideline-to-sideline speed and good coverage ability, but if the UVA backs can get to the second level on them, they should be able to get extra yards after contact.
The ability for them to do that will depend on the O line doing its job, which it wasn't able to do against Tennessee until the outcome had long since been decided.
"I think the speed and the depth, right, kind of shocked us a little bit, just because it's hard to simulate that on our practice field. I think once the shock wore off, the guys kind of settled in," Elliott said, assessing the poor performance from the line unit, which graded out at 63.3 by Pro Football Focus in run blocking, 103rd among the 133 FBS teams in Week 1.
And that was the good number. The 32.8 PFF grade in pass blocking ranked 127th.
"I think it was a combination of several things, but I also saw some pictures that when our guys did it right, they had success, like when they trusted their technique, and they were all working in unison, and the backs were on track where they were supposed to be, we were able to have some success in the game," Elliott said. "So, that's what you build upon, but then you also have to evaluate, OK, how do we get better, how do we put them in a better position, how do we get them to use their fundamentals more consistent?"