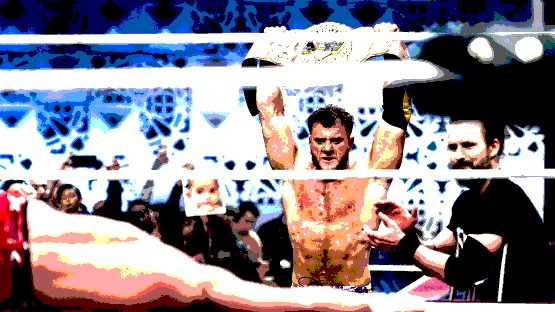 AEW's annual "Full Gear" pay-per-view from Saturday was entertaining, if not entirely fulfilling.
The storyline around Maxwell Jacon Friedman's AEW world-title defense, for instance, felt contrived, and not only did we not get any closer to knowing who is behind the Devil charade involving MJF, there was absolutely nothing in the way of even a hint of an appearance there.
The bloody Swerve Strickland-Adam Page match will be on the short list of candidates for Match of the Year.
The win for Toni Storm in her AEW world-title challenge to Hikaru Shida was a dud.
On to the hits and misses from "Full Gear."
Hit: Swerve Strickland gets surprise win over Adam Page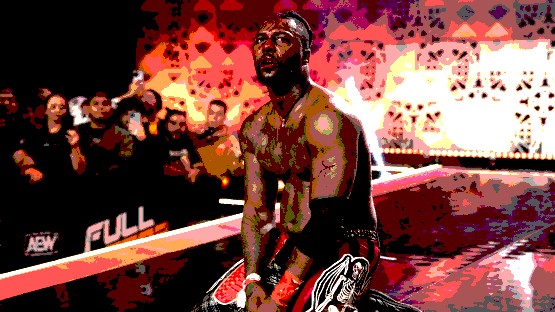 Strickland had already scored a win over Page at the October "WrestleDream" pay-per-view, so when the two were announced for a rematch at "Full Gear," it seemed inevitable that Page would go over to set up a rubber match for down the line.
That Strickland, who should be getting near the world-title picture soon, made it two straight over Page, himself a former AEW world champ, was a nice, well, swerve.
And that the win came in a bloodfest will leave no doubt that Strickland is to be considered a force to be reckoned with going forward.
Miss: Storm's sloppy cheating
Toni Storm was clearly on a course to win the AEW women's world title. Her "Timeless" character is among the more over things with the AEW fanbase right now.
The way she was booked to win, and the execution therein, leaves a lot to be desired.
Storm loaded up her backside with what looked to be a hubcap for her hip attack finish, only, the foreign object didn't exactly fit into her tights, leaving the hubcap hanging out, hugging her butt cheek.
Yes, wrestling is fake, but it's not presented as such, so to have a ref look the other way at something so blatant doesn't do anybody well here.
Hit: Julia Hart is your new TBS champ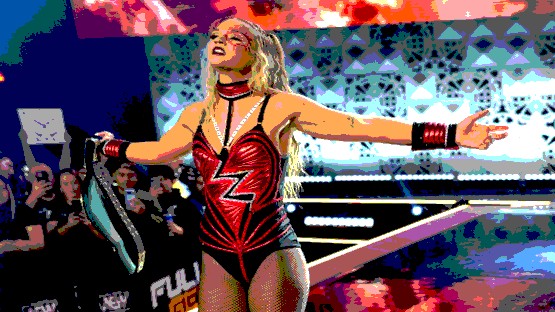 Hart is just as over in the women's division as Storm, possibly more so, so her late inclusion into the TBS title match with Kris Statlander and Skye Blue seemed to point to Storm going over.
Statlander's TBS title reign was flat, at best, so it was time to get the belt off her.
Doing the switch in a three-way match sets up Hart's first couple of title defenses, first with Statlander, to get her out of the way, then setting up what promises to be a nice back-and-forth with Blue, who is on the verge of breaking out as a star.
Miss: Convoluted booking in the main event
Tony Khan is stuck on his thinking that it makes sense to have his most marketable singles star as one-half of the tag champs of the secondary brand.
Which is why we keep having MJF in Zero Hour matches defending the Ring of Honor belts.
Khan used the title defense, teaming MJF with Samoa Joe, replacing Adam Cole, who is out with the bad ankle injury, against The Gunn Club, to set up an angle for the main event, having the Gunns injure MJF after the match, throwing the title defense against Jay White into doubt.
Of course it would be the case that MJF would make it back from the hospital, and defeat the odds on his way to retaining the belt.
If this nonsense had at least led to something advancing the storyline involving the person in the Devil mask, we could feel like this wasn't just way, way overdoing it.
As it was, we just get an end to the dud of a feud that also, unfortunately for White, diminishes him going forward.
The impression left with fans after his loss is that White can't even win after having his stablemates attack and injure the champ, send him to the hospital, and have to hobble back to wrestle on one leg.
This did nothing for MJF, nothing to advance storylines around the world title, and threw White under the bus.
Other than that, how was the play, Mrs. Lincoln?
Push: Will Ospreay is All Elite
I get why Khan wanted to roll out the signing of Ospreay, who should be a main-event player when he is finally able to join the company full-time early next year.
Reports had been making the rounds that WWE was interested in Ospreay, so this one is a PR win for Khan, a guy who needs PR wins right now, with ratings for his TV shows in the tank right now.
But …
Ospreay still has a couple of months of time to serve out the end of his New Japan contract, so he won't figure into any storylines for a while.
Announcing the news now can come across like so much of what Khan has done in the past in rolling out news the second that he can, rather than waiting to put some polish to things.
It would have been more dramatic to let the rumors about WWE fly for the next couple of months, then bring Ospreay in at a dramatic moment.