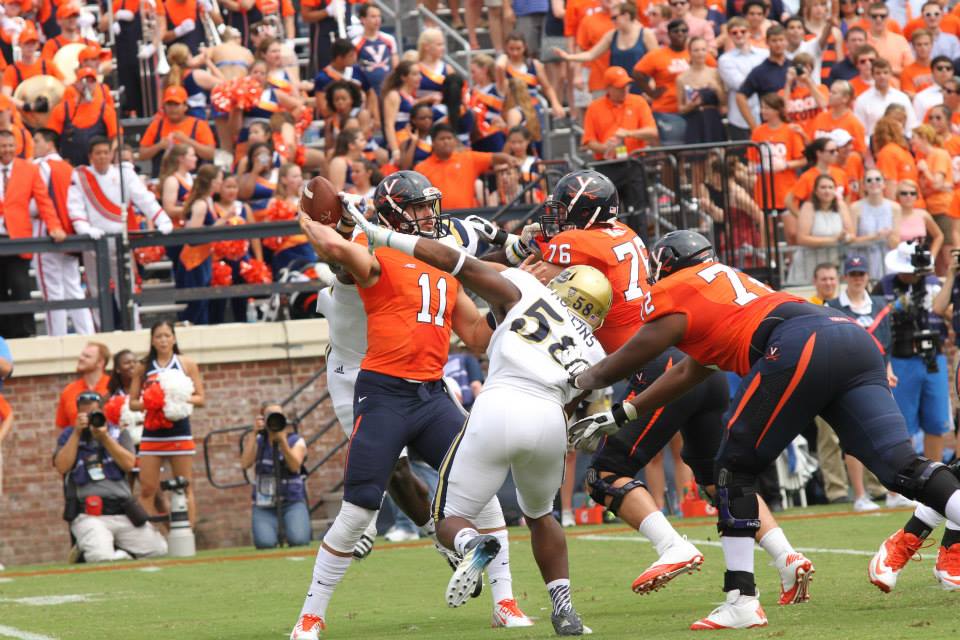 Greyson Lambert was the starting quarterback for the UVA opener at home against Top 10 UCLA on Aug. 30, but he didn't even make it to halftime.
Matt Johns, on the depth chart for the UCLA game as the third-stringer, was inserted into the lineup after Lambert threw his second pick-six of the second quarter as the Bruins built a 21-3 lead that included a third defensive touchdown on a fumble recovery that was returned for a score.
Johns, behind Lambert and the 2013 starter, David Watford, on the depth chart, led Virginia to a touchdown on his first drive of the game, late in the second quarter, and had the Cavs within a score most of the second half in what turned into a 28-20 defeat.
And thus began the latest quarterback controversy at Virginia, with Lambert and Johns splitting time in the next two games, wins over Richmond and Louisville, before Lambert went down to injury on the road at BYU, giving the job to Johns for a stretch that included wins over Kent State and Pitt and a narrow loss on the road at Duke.
Sitting at 4-3 after the Duke defeat, with the offense seemingly humming with Johns under center, coach Mike London went back to a healthy Lambert for a pivotal home game with UNC, and while the 'Hoos led most of the way, it was a late Lambert mistake, an interception on a drive that had the potential to put the game out of reach, that ultimately doomed UVA to defeat.
Then came a lackluster effort at Georgia Tech, more mistakes dooming Virginia at Florida State, a nice home win over Miami and an all-around woeful offensive output in a close loss at Virginia Tech.
Which gets us to the focus of this column: was the move to anoint Lambert the starter in the spring, and then go back to him after the loss at Duke, the right one based on performance?
My analysis of this leads to a clear, unequivocal answer: hell, no.
The surface numbers give us our first indication. The pass-efficiency ratings of the two give Johns a slight advantage. Johns had a 122.57 passer rating in 2014, completing 54.9 percent of his passes (89-of-162) for 1,109 yards (6.85 yards per attempt) with eight touchdowns and five interceptions. Lambert had a 115.74 rating, completing 59.0 percent of his passes (154-of-261) for 1,632 yards (6.25 yards per attempt) with 10 touchdowns and 11 interceptions.
You can see there just in the numbers what the quarterbacks bring to the offense. Lambert completes a higher percentage of his passes, Johns gets more out of his passes. That perception is reinforced when you look at yards-per-completion (10.60 for Lambert, 12.46 for Johns).
But even so, the advantage in the numbers is slight enough to merit more examination. Because what if those very specific passer-only numbers didn't tell the whole story of who was the more effective at moving the team down the field and putting points on the board?
The slight advantage to Johns becomes more pronounced when looking at the UVA offense over the course of the season on a drive-by-drive basis. Lambert was the quarterback on 97 UVA offensive drives in 2014, and Johns led 57 UVA drives. For the sake of this analysis, I totaled the numbers from the drive charts and play-by-plays that would also bring in through the dragnet gains and losses associated with penalties, the intent on my part being to give a more accurate representation of game flow than just looking at total offensive yards could give.
That having been established, the Virginia offense produced 150 points on Lambert's 97 drives (1.55 points per drive), which encompassed 541 total offensive plays (5.58 plays per drive) and gained 2,320 yards of field position (23.92 yards per drive). The UVA offense produced 115 points on Johns' 57 drives (2.02 points per drive), which encompassed 321 plays (5.63 plays per drive) and gained 1,957 yards of field position (34.33 yards per drive).
Not. Even. Close. The UVA offense under Johns scored 30 percent more points and gained 43.5 percent more yards per possession. What's interesting is that the number of plays per drive was so similar (5.63 plays per drive with Johns at QB, 5.58 plays per drive with Lambert at QB). This is reflective of one last, mind-boggling difference in the data: the gap in average yards per snap.
With Lambert at the helm, Virginia averaged 4.29 yards per play. With Johns, the offense gained 6.10 yards per play.
What this analysis does for me is confirm what I've been saying since about Week 3, that Lambert, who is said to look lights-out great in practice, but obviously has issues translating success Mondays-through-Fridays to Saturdays, has a much higher ceiling, but Johns, with a much lower ceiling, without Lambert's NFL-quality arm, is better able to translate what he has in terms of productivity and get the job done.
Bottom line: I can't blame the coaching staff, London, Tom O'Brien, Steve Fairchild, from going with Lambert as the starter to open the season, because all they had to go on to that point was the Lambert who seems to always be on the verge of breaking out. But once he went down to ineffectiveness and then to injury, and Johns was able to build up a body of work, it was pretty obvious what direction the staff needed to go in.
The brain trust, unfortunately, made a choice that pushed the season in the wrong direction. And despite that, they all still have jobs.
– Column by Chris Graham