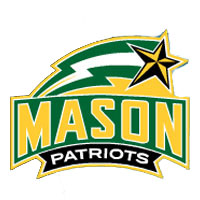 For the second straight day, George Mason handed an opponent its first loss of the season as the Patriots defeated Oklahoma State in overtime 71-68 to advance to the Gildan Charleston Classic Championship game on Sunday. Jaire Grayer posted a career-high of 23 points, while Shevon Thompson notched his second consecutive double-double behind 20 points and 17 rebounds.
GAME NOTES
-Mason trailed by 10 points with 5:50 to play in regulation and used an 18-3 run over nearly five minutes of action to erase its deficit and hold a 56-51 advantage with 56.1 left to play.
-OSU's Joe Burton converted a layup with 43 seconds left and drained a triple from the top of the arc with 16 seconds to play to tie the score at 56-56.
-Mason called its final timeout of regulation and on the final play, Otis Livingston II's trey attempt hit the rim and rolled off, forcing overtime.
-Marko Gujanicic hit a triple to open the overtime period, but the lead was short-lived as Mason and OSU exchanged the lead twice before Marquise Moore gained the final lead for the Patriots with 1:47 to play.
-Shevon Thompson converted a three-point play with 1:03 to go, handing Mason a 69-65 advantage. The Patriots extended their lead on a Moore jumper at 18 seconds. With 10 seconds left, OSU's Jeff Newberry hit a jumper as the Cowboys rebounded a missed one-and-one opportunity for Gujanicic, but couldn't convert in the finals seconds, sealing the overtime win for Mason.
-Mason led at the halftime break 26-22, but was outscored in the second half, 34-30.
STAT BREAKDOWN
-Two Patriots scored in double-figures in Grayer and Thompson.
-Mason won the battle on the glass 45-41 with Thompson's 17 boards.
-For the game, Mason shot 41.4 percent, while OSU shot 37.9 percent.
-Marquise Moore recorded a career-high eight assists in the victory as Mason had 15 assists for the third consecutive game.
-The Patriots shot 45.8 percent from three-point range, going 11-for-24. Grayer hit 5-of-7 from distance, while Marko Gujanicic and Otis Livingston II each had three treys.
-Mason was 2-for-7 at the charity stripe. OSU was 13-for-17.
NEXT ON THE COURT
-Mason will play in the Gildan Charleston Classic championship game on Sunday against the winner of Long Beach State and No. 6 Virginia at 9:30 p.m. on ESPN2.