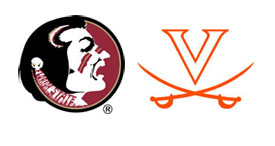 No. 13 Virginia (13-3, 2-2 ACC) plays at Florida State (11-5, 1-3 ACC) in Atlantic Coast Conference action on Sunday, Jan. 17. Tipoff at the Donald L. Tucker Center (12,100) is set for 6:30 p.m. The game will be televised on ESPNU.
For Openers
Virginia meets Florida State for the lone regular-season meeting between the teams in 2015-16.
UVA has a five-game winning streak against the Seminoles, including a 62-50 win in Tallahassee to open the 2013-14 ACC season.
As of Jan. 15, UVA is tied for 8th in the ACC at 2-2 and FSU is tied for 10th at 1-3.
As of Jan. 14, UVA ranks 10th nationally in scoring defense (60.7 ppg), 11th in field goal percentage (49.8%), 13th in assist-to-turnover ratio (1.62), 21st in free throw percentage (75.1%) and 23rd in 3-point field goal percentage (39.7%).
Broadcast Information
The Virginia-Florida State game will be televised on ESPNU, streamed online at WatchESPN.com and broadcast on the Virginia Sports Radio Network, VirginiaSports.com and Virginia Athletics mobile app on iTunes or Android.
Live statistics will be located on VirginiaSports.com and the Virginia Sports app.
The Head Coaches
Virginia: Tony Bennett (Green Bay, 1992), 149-67 in seven seasons at UVA and 218-100 in 10 seasons overall.
Florida State: Leonard Hamilton (Tennessee-Martin, 1971), 247-178 in 14 seasons at Florida State and 447-388 in 28 seasons overall.
Virginia Ranked Nos. 13 and 11 in Latest Polls
UVA is ranked No. 13 in the latest Associated Press poll and No. 11 in the USA Today Coaches' poll.
UVA had been ranked in the top 10 in six consecutive polls.
UVA was ranked in the top 10 in 25 consecutive AP polls from March 3, 2014 to Nov. 16, 2015, its longest span since 49 straight from 1980-83.
The Cavaliers' No. 6 preseason ranking was UVA's best since a No. 1 ranking to start the 1982-83 season.
Virginia has been ranked in the preseason top-10 in back-to-back seasons for the first time since 1981-82 and 1982-83.
All-Time vs. The Seminoles
Virginia is 23-22 all-time vs. Florida State, including a pair of wins last season, in the series that dates back to 1991-92.
In 2014-15, UVA defeated Florida State 51-41 in Charlottesville and 58-44 in the quarterfinals of the ACC Tournament.
Virginia has won six of the last seven meetings between the teams, including a three-game winning streak at John Paul Jones Arena.
Head coach Ton

y Be

nnett is 6-5 all-time vs. Florida State.
Malcolm Brogdon is Virginia's current career leading scorer against Florida State, averaging 10.5 points in six career games.
Anthony Gill is averaging 9.6 points and 5.8 rebounds in five career games against the Seminoles.
Last Time vs. Florida State
Evan Nolte scored 11 points, including a trio of 3-pointers, as No. 1 seed Virginia topped No. 9 seed Florida State 58-44 in ACC Tournament quarterfinal action on March 12, 2015.
Mike Tobey added 11 points and six rebounds, and Malcolm Brogdon added 10 points and a 6-6 effort from the charity strip.
Xavier Rathan-Mayes led the Seminoles with 13 points on 6-18 shooting from the floor.
The Cavaliers started 6-6 from the floor en route to a 34-17 halftime lead.
Florida State cut the margin to 44-39 in the second half, but Virginia outscored the Seminoles 14-5 in the last 7:06 to secure the win.
Last Time Out
Malcolm Bro

gdon l

ed four players in double figures with 20 points as No. 13 Virginia beat No. 8 Miami 66-58 on Jan. 12.
Anthony Gill added 15 points, London Perrantes had 12 and Mike Tobey added 12 as Virginia snapped a two-game losing streak.
Angel Rodriguez scored 17 points to lead Miami and Sheldon McClellan added 13.
UVA shot 61.1 percent from the field and 82 percent (15-17) from the charity stripe in the second half.
Gill had a game-high eight rebounds as UVA enjoyed a 35-27 rebounding advantage.
Miami was 6-22 (27.3%) from 3-point range and 10-17 (58.8%) from the free throw line in the loss.
On The Horizon
UVA hosts Clemson on Tuesday, Jan. 19. Tipoff at the John Paul Jones Arena is set for 8 p.m. on the ACC Network.