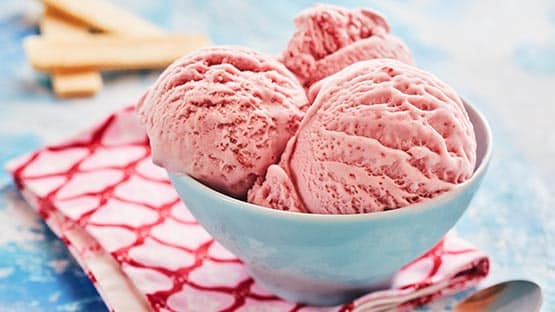 The Virginia Farm Bureau is highlighting the "Mouthwatering Ice Cream Trail" to help residents scour the state for some of the best homemade ice cream, custard and sorbet.
The trail entices visitors to taste some of Virginia's finest frozen treats while also taking advantage of the state's scenery.
Winding through Northern Virginia and the Shenandoah Valley, the seven-stop route features "farm-to-cone" delights, including frozen custard, seasonal sorbets and gelato.
Enjoy one last road trip this summer before fall weather returns.
The Dairy Godmother
You can start or finish the trail in Northern Virginia, where The Dairy Godmother offers Wisconsin-style frozen custard in the heart of Alexandria.
The popular shop features a daily flavor of fresh custard, like Bordeaux Cherry Chip, as well as chocolate and vanilla each day. It also offers a variety of sorbets that change daily.
Sugar Mama's
Sugar Mama's in Fairfax is a stop for adventurous ice cream lovers. The shop's mini scoops are perfect for exploring the unique ice cream flavors or piling them high in a homemade waffle cone or cup.
Popular flavors include Banana Cream Pie and Coco Choc Crunch.
Moo Thru
The charming Moo Thru is a Remington staple that offers a true farm-to-cone experience, sourcing from local dairy farmers and using fresh, local ingredients.
The slow-churned ice cream flavors of blackberry, cake batter and dark chocolate are among the most popular choices.
Carl's
Carl's in Fredericksburg has been serving up classic soft-serve frozen custard for 76 years, and visitors may experience a wave of nostalgia when visiting this retro ice cream stop.
Made with a much higher concentration of eggs and butterfat, the famous Carl's custard is a rich, creamy dessert choice.
Chaps
Chaps Ice Cream on the Charlottesville Downtown Mall pairs the charm of an old-fashioned ice cream parlor with innovative flavors.
All ice cream is made on site and features custom-created flavors like Four C's, which is chocolate ice cream with cherries and chocolate chips; and the Golden Nugget, which is vanilla ice cream with pecans and caramel.
Split Banana
The Split Banana in downtown Staunton is the place for authentic gelato. Flavors include Lemon Lavender, which incorporates lavender from local farmers markets and Highland County Maple made with maple syrup from neighboring farms.
Kline's Dairy Bar
The original Kline's Dairy Bar in downtown Harrisonburg has been serving up custard-style ice cream since 1943.
High-quality ingredients and an old-fashioned ice cream-making technique transformed the Kline family's home-based ice cream stand into multiple bustling locations today including Lynchburg, Staunton, Waynesboro and McGaheysville. Each regional location makes its own fresh ice cream each morning. Fan favorites include black raspberry, banana pudding and peach.