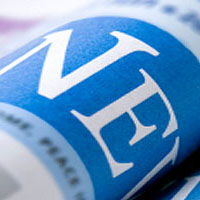 There's a lot that goes on behind the scenes at your media company to ensure everything goes smoothly. From staying on top of SOC compliance with the software from Reciprocity to finding stories that people actually want to read or watch, there's a lot on your plate. That includes keeping people informed about industry news that pertains to your company.
Customers and clients have a vested interest in what's going on behind the scenes at your company, which means you also have to keep them up-to-date! Here are four ways to do just that.
Create a 'News' Tab on Your Website
Most companies already know how important it is to have a blog page, but if you have plenty of news to share, you'll want to create a separate tab for it on your website.
By using a different tab for your news stories that's separate from general blog articles, visitors to your site don't have to dig through countless articles looking for relevant news stories. They can find exactly what they're looking for quickly and easily.
Send out Email Newsletters
Many businesses, whether they're media-related or not, hesitate to create email newsletters. Not only do they take time to write, but you also have to spend time building an email list. Even though it can be frustrating, it's well worth your time because it can increase customer engagement.
Newsletters are an especially good way to send news because emails are very timely. You can create an email in the morning and send it out to hundreds or even thousands of subscribers by the afternoon. You can also use your emails to point people back to your website by teasing a story and requiring them to click on a link to finish reading the content.
Post Videos on YouTube
If you're a media company, you know that people don't just like reading the news. They like to watch it too!
If you have the time and the resources, consider posting industry news updates and insider industry information on YouTube. If you create interesting or useful content, people will want to share your video. Going viral just one time can greatly increase your customer base.
Use Social Media for Quick Updates
Lengthy news stories and videos aren't everyone's cup of tea. In many cases, quick updates about what's going on in your industry are a great way to keep people in the loop without asking them to dedicate too much time to what you have to say.
A good social media strategy for business updates might include:
Facebook
Twitter
Pinterest
Instagram
Snapchat
Don't feel like you have to use every one. Consider which platforms your target demographic uses and update just one or two of them.
Getting updated on all the latest industry news isn't just about reading the paper or watching the TV anymore. Reach a wider audience and grow your readership by giving the tips on this list a try.