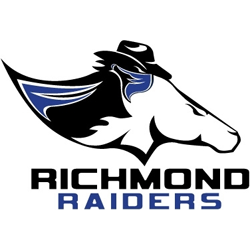 Former Richmond Raider, Virginia Tech Hokie, and Richmond native Davon Morgan is one step closer to realizing his dream of playing in the NFL. The defensive back who spent nine years terrorizing offenses in Richmond high schools, the ACC, and the PIFL has signed a free agent contract with the Philadelphia Eagles.
After being invited to a post-draft tryout camp, Morgan impressed head coach Chip Kelly and his staff so much that he was the only player from the camp to be offered a contract.
Morgan led the Raiders in tackles and was second in passes broken up, while finishing in the top 5 in the league in both categories in 2013. He was prepared to return to the Raiders for the 2014 season before deciding to capitalize on opportunities to train for NFL tryouts. Raiders head coach James Fuller, who was a defensive back for the Eagles in 1996, was supportive of Morgan's decision and is happy that it paid off. "I'm very proud and very happy for Davon.
That's what this league's about, getting guys to move up. Being a former Eagle it puts a smile on my face as well," Fuller said. Morgan had a standout career at Richmond's Varina High School where he played quarterback
and free safety before matriculating to Blacksburg. He started on special teams as a true freshman for Coach Frank Beamer and worked his way into the rotation in the defensive secondary. He was named a starting safety heading into his sophomore year, but suffered a season-ending knee injury five games in. After recovering, he started every game his last two years and was named second team All-ACC as a senior after notching five interceptions and finishing second on the team in tackles.
After graduating, Morgan was signed as an undrafted free agent by the new york jets. Unable to participate in team activities due to the lockout, he was released and moved back to Richmond where he landed with the Raiders while never taking his eye off of the goal of playing on Sundays. "I have to give all the props to Davon who really put in the work in the offseason,"
Fuller continued. "I've been talking to him all offseason about what he had to do to be successful and get to the next level and he sacrificed a lot of things and it paid off."
The entire Raiders organization congratulates Davon and is proud of his accomplishments, and wishes him success in Philadelphia!