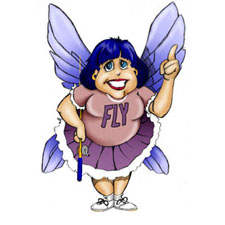 In 2001 we built our first website. We just needed a place to put some of our basic FlyLady System essays. Kelly and I never set out to have a website or to mentor almost a million people. We just wanted to help one person. That one person is you. I like to think of our first website as a one room school house. There were only a few pages. We were so excited to have a website. Each week we added a few more pages. It was sort of like the Winchester House in San Jose, California. It grew by just adding on a room at a time. Before we knew it, we needed a Google Search box to find things.
As most of you know we have been working on a new website for several months. With a website that is large as ours it takes a lot of work to restructure it. Our team has worked very hard to make this happen. Nikki hurting her back slowed us down a bit, but the health of our people is more important than a redesign of our website. Yes it does seem a bit outdated; that because we spend all our time taking care of our FlyBabies with our emails.
Our website has never been the most important part of our system. It has been the text book to help guide you. Our email messages are the power to create change in you. Our Friends at BigTent and Federated Media have made our emails beautiful and easier to read. It won't be long till we have a new website.
Our FlyCrew has been working hard on our new website. We will have a new website before you know it. I am so excited. They just showed it to me a couple of weeks ago and I loved everything about it. They have kept me in the dark for several months now.
I was so proud of myself for delegating this difficult job and not taking it back. Many times as a perfectionist, we won't let go of a job because we don't feel that anyone can do it as well as we can. I have learned that I can't do everything. I have surrounded myself with efficient and talented people and I can't wait to show you their creative and well designed website. I know you are going to love it as much as I do.
I would like to thank Kelly, Nikki, Stephanie, Lee and Michael for all their hard work. You are not going to believe how beautiful and well organized our new website will be. I would also like to think BigTent and Cozi for being such great partners. If you have not signed up for our emails then you are missing out on the most powerful part of our system: www.flylady.net/pages/get_started_1.asp
Go check out our FlyLady/Cozi calendar. It will help you stay organized even when you are away from home with a busy schedule: www.flylady.net/pages/cozi.asp
Thank you all for loving us and understanding that good things are worth waiting for!
For more help getting rid of your CHAOS, check out her website and join her free mentoring group at www.FlyLady.net or her book, Sink Reflections published by Random House and her New York Times Best Selling book, Body Clutter published by Simon and Schuster. Copyright 2011 Marla Cilley Used by permission in this publication.