The one good thing: Daniel Sparks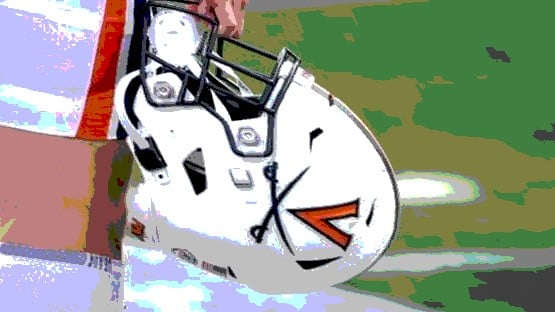 Daniel Sparks may have been the MVP yesterday.
Punting early and often, Sparks averaged 42.7 yards per kick, with four of his kicks going for 50-plus, including a long of 62, and he had three punts downed inside the 20, two of those setting Tennessee inside its own 10.
The punt coverage wasn't always good: UT speedster Dee Williams had returns of 55 and 31 yards in the second half.
Those returns came on 50-plus-yard punts from Sparks.
Virginia did recover a Williams fumble on a first-quarter punt return, so, there was that.
Mixed bag: The secondary
Tennessee QB Joe Milton was 21-of-30 for 201 yards and two TDs and had a 110.6 NFL passer rating, so he had himself a game.
But most of what he did was short stuff – 11-of-11 for 67 yards behind the line of scrimmage and 5-of-8 for 38 yards on passes under 10 yards.
On the longer throws, Milton was 4-of-5 for 55 yards on passes between 10 and 19 yards from the line of scrimmage, and just 1-of-6 for 41 yards on passes that traveled more than 20 yards in the air, and that one was a badly underthrown ball that his receiver, Ramel Keyton, made a nice adjustment to get to.
Jonas Sanker was the best cover guy: on 37 pass-coverage snaps, he gave up two catches on six targets for 17 yards, with one pass breakup, for a 42.4 NFL passer rating against.
Sam Westfall also had a nice day: on 23 pass-coverage snaps, he allowed one catch, a six-yarder, on three targets, with a 42.4 NFL passer rating against.
Tayvonn Kyle had an awful day; on 32 pass-coverage snaps, he allowed five catches on six targets for 50 yards, a TD, and a 141.0 NFL passer rating against.
Kyle was also assessed with two missed tackles, which accounted for 30 yards after the catch for UT receivers.
Kyle's Pro Football Focus grade for the day was an abysmal 45.9, the lowest on the defensive unit.
Mixed bag: Tony Muskett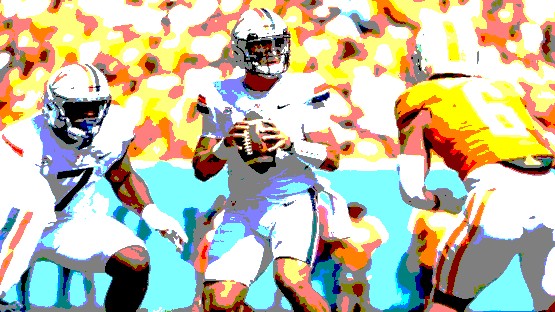 Tony Muskett, to be fair, was under duress a good bit – he was sacked four times, and the Tennessee front recorded three other official QB hurries, which seems low, considering what it looked like out there at times.
The other problem he had was center Ty Furnish practically rolling the ball back to him on what were supposed to be shotgun snaps.
Two of those led to what could have gone down as sacks, but went into the scorebook as QB keepers for big losses.
OK, all that said, Muskett, the Monmouth transfer, was, grading on a curve here, OK in his first career FBS start – 9-of-17 passing for 94 yards and a 69.2 NFL passer rating, with three scrambles for 11 yards, and three designed runs that went for a net of negative-14 yards.
Four of the completions were behind the line of scrimmage, and a fifth was under 10 yards from the line – and he was just 5-of-10 total on those passes, for 13 yards.
He was 3-of-5 for 51 yards on passes between 10 and 19 yards from the line of scrimmage – one of those balls was a nice ball for a 19-yarder to Malachi Fields to convert a third-and-nine that set up the 'Hoos with a first-and-goal in the first quarter.
The other nice ball was the 30-yarder to Fields in the second quarter that set up Virginia's first score, a 30-yard Will Bettridge field goal that cut the Vols' lead just before the half to 14-3.
The sum total here is two nice balls on intermediate and deep routes, noticeable inaccuracy on short stuff, and a general inability to keep plays alive with his feet.
Oh, and he had to leave the game in the fourth quarter after taking a big hit that left him with an injured left shoulder that we have to hope doesn't turn out to be as bad as it looked.
Coach Tony Elliott said after the game that Muskett would have the shoulder looked at when the team got back to Charlottesville.
At this writing, we don't know the status of that medical review.
The backup, true freshman Anthony Colandrea, was 2-of-7 for 12 yards, with two designed runs that gained 17 yards.
Mixed bag: Will Bettridge
Will Bettridge was 2-for-3 on his field-goal tries, connecting from 30 and from 40, but his miss, on a 28-yarder in the first quarter, was momentum-killing.
Get that one to go, and it's 7-3 midway through the first, and UT has to play with maybe a little game pressure.
So, good that he came back and made the other two kicks, but you've got to be able to count on your kicker making a 28-yarder.
Truly awful: The O line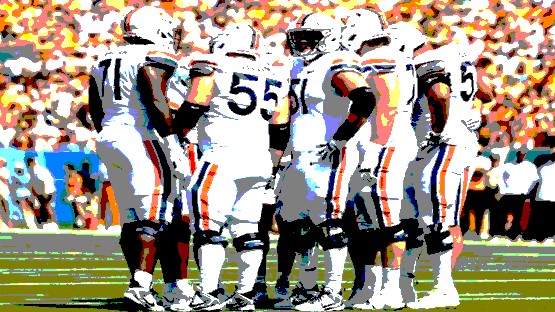 The aforementioned four sacks, the litany of bad snaps, the run game putting up a sack-adjusted 117 yards and 3.3 yards per carry.
And even that run-game number is a mirage: 114 of the 117 yards came after UT went up 35-3 midway through the third quarter, i.e., they were garbage-time yards.
Furnish, the guy with the snap issues, had a 41.0 PFF grade, the worst on the unit.
Left guard Ugonna Nnanna, the Houston transfer, was responsible for two sacks, and had a 49.2 PFF grade.
The best day, and this is relative, was put in by right guard Noah Josey, who earned a 58.1 PFF grade for his efforts on the day.