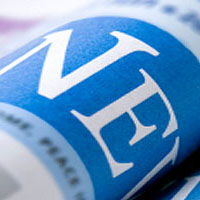 The nomination deadline has been extended for the James River Writers annual Emyl Jenkins Award, honoring a Virginian that inspires a love of writing and writing education in Virginia. The new deadline is August 31.
This annual award honors the memory of JRW member and advocate, Emyl Jenkins. An avid supporter for writers and readers, Emyl had a knack for connecting people. She shared her time and expertise with everyone she encountered. She encouraged writers at all levels, especially fledglings trying to get those first words down on the page. Her generous spirit and her enthusiasm rubbed off on everyone she touched, and her actions widened the circle of writing encouragement.
James River Writers is a nonprofit organization serving aspiring and professional writers and passionate readers in all genres through a variety of programs, services and events.  James River Writers builds community by connecting and inspiring writers and readers in central Virginia through educational and social activities, including the annual James River Writers Conference, held in Richmond each October.
Award Details
Any Virginia individual is eligible, except for members of the JRW board of directors, staff, or the advisory board.
Entry must explain, in no more than 500 words, how the nominee makes Virginia a better place for writers. It must include contact information (e-mail and phone) for the nominator and two others who can further illuminate the nominee's qualifications.
A panel of judges, chosen from the JRW board of directors and JRW membership who represent different levels of writing experience, will pick the winner. They will choose the nominee who best matches Emyl Jenkins' efforts to make Virginia a better place for writers. That could be by connecting people and organizations around the written word, by sharing time and expertise about writing, or by encouraging writers.
The winner will receive the award at the James River Writers Conference on Sunday, October 18, 2015.
Deadline for entering is August 31, 2015.
Questions? Call (804) 433-3790 or e-mail [email protected]
More Info on James River Writers at: www.jamesriverwriters.org