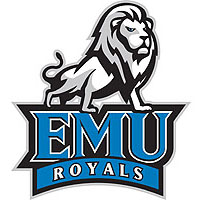 Despite a new coach at the helm, the EMU soccer women are looking to continue their march back to prominence in the Old Dominion Athletic Conference. In 2013, the Royals finished 10-9, notching their first double digit-win season in seven years. First year Coach Ted Erickson said the foundation is set to continue that climb this year.
"Last season was a great step forward for our program," Erickson said. "After two subpar seasons, the women battled back to a winning season, which will build confidence for us as a team. We will be looking for our returning players to be leaders for our 10 incoming players and allow us to build upon that success and hopefully repeat what we achieved last season, or do even better."
The Royals opened the year with four straight wins en route to a 6-1 start. Injuries slowed the women down the stretch, but they still returned to the ODAC Tournament for the first time since 2010, losing to eventual champion Lynchburg in the quarterfinals.
Back from that team is All-ODAC Second Team forward Nora Osei (Springfield, Va./West Springfield), who had one of the best seasons in program history with 14 goals, three assists and 31 points. She finished fourth in the ODAC in both goals and points.
"Nora has been a great team leader over the summer," explained Erickson, "helping keep the team connected as everyone traveled home for the summer to be with family. With that though, she has been a teammate to a lot of great leaders while here at EMU, being a member of the women's soccer program as well as the NCAA-qualifying women's basketball program. Her success as a two-sport athlete gives her great leadership characteristics. Those skills will help us to continue changing this program and how we are viewed in the ODAC. We will be looking for her to contribute through the season with goals, assists, and more importantly a continued presence of energy in practice and games."
Also back from last year's squad are talented junior midfielders Morgan Hill (Martinsville, Va./Carlisle) and Elisa Ott (Lancaster, Pa./Penn Manor). Hill was second in the ODAC with her nine assists, rocketing her to third place in EMU history with 15 career assists in just two seasons. Ott was third on the team with four goals. Also among the returners is classmate Becca Borg (Gig Harbor, Wash./Peninsula), a two-year starter in goal who has 206 career saves. Other returners include: Sam Winkler (Round Hill, Va./Woodgrove), Emma Beachy (Harrisonburg, Va./Eastern Mennonite), Cayla Garner (Clear Spring, Md./Clear Spring) and Kristyn Garlow(Bristow, Va./Patriot).
The team lost three-year starting defender Erica Detweiler to graduation, along with a handful of other players, but Erickson believes the women returning have what it takes to be successful. He said the coaching staff may have to adjust how they structure practices during the season to keep the small roster healthy for game days.
"We would love to have more depth as a team," said Erickson, who coached Harrisonburg High School's boys the last eight years as well as assisting on EMU's men's and women's teams. "The college game is much more physical than high school and club soccer. As a coaching staff, we will have to monitor the physical status of each player and then evaluate the team's status day-by-day, week-by-week. We will continue to recruit and work towards building up our team numbers, but this season we have faith that these women have prepared themselves for the season and we are confident they will help us to continue to excel."
The newcomers are highlighted by Sara Shenk Moreno (Harrisonburg, Va./Harrisonburg) and Hannah Walker (Chesapeake, Va./Grassfield).
"Hannah will be a great addition to our backline," Erickson explained. "She comes to us after a stellar high school career in the Virginia Beach area, and we believe she will help create the team defensive mindset that we are looking to build here at EMU. And we're excited about Sara because of the options she provides us and how versatile of a player she is. Sara is a very intelligent soccer player who possesses the ability to play practically anywhere on the field and that will be key for us as our team depth is still low."
Erickson said this recruiting class possesses a lot of athleticism and overall speed, which will help the women be more dangerous in the attacking third of the field. He felt the team's strengths would be their understanding of team defense as well as a midfield which can possess the ball and help the Royals control the game.
The 2014 schedule starts with a couple of games in the Baltimore, Md., area and includes a nice mix of home and away contests. Erickson likes the balance of games, as well as the road trip to open the year.
"This will be a great opportunity for us to come together as a team and push ourselves over the course of two days," said Erickson. "Once we get into the heart of the season, we have a nice balance between home and away games, which in college it can be very difficult to have a stretch over your season where you are continuously traveling game after game. We as a staff are hoping that with us being such a young team, this will keep our legs fresh and our energy high."
Erickson is excited for the opportunity to not only return to the university where he played soccer, but also to continue to build a program which he believes is on the verge of becoming one of the top teams in the ODAC.
"We will have a ton of energy and passion," Erickson explained as a trademark of the teams he coaches. "I strongly believe that we all started playing this game because it was fun. Therefore, when we score, we're going to celebrate with excitement and joy, and bring out that little kid in all of us. My goal is to continue that fun while the student-athlete is here at EMU."
He said his teams work together, but are also not set on a single formation.
"We will be a very organized defensive team," Erickson continued, "a team that will build up and attack as a solid unit when attacking. We will look to possess the ball 60%-75% of the game and learn to recognize the windows and opportunities other teams give us and expose those openings. We will not be a team that is defined by one team formation, but will possess the ability to adapt our game to be most dangerous to the opponent we play."
While there is sure to be a transition phase due to the coaching change, Erickson believes his focus on "soccer smart" recruits will gel with the quality players already on the team to keep the positive momentum of the program moving.