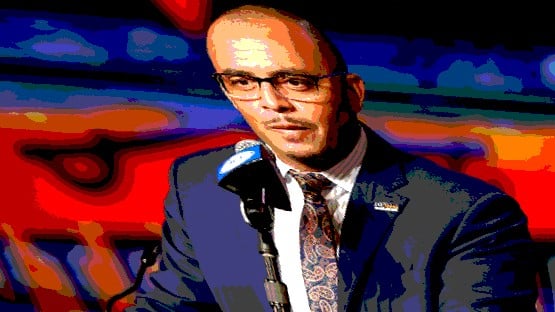 Oddly, UVA Football coach Tony Elliott wasn't asked directly in his Tuesday press conference who he's going to be starting at QB Friday night at Maryland.
Inquiring minds didn't seem to want to know.
The depth chart released by the PR people lists Tony Muskett, the Week 1 starter, at QB1, with Anthony Colandrea at QB2, but Elliott, in answering other questions from the media horde about the situation at quarterback for his team, seemed to be indicating that Muskett, who went down to a left shoulder injury in the fourth quarter of the 49-13 loss to Tennessee on Sept. 2, is still day-to-day.
The word in the press box this past weekend, take this for what it's worth, because the primary source who was passing this on also begged anonymity, reported that Muskett's injury isn't as much day-to-day as it is possibly something that could linger as an issue for the program for at least a few weeks.
Colandrea, a true freshman, did more than hold the seat warm in his first career college start, passing for 377 yards and two TDs in leading the UVA offense to an Elliott-era-high 35 points in the 36-35 loss to JMU in the home opener on Saturday.
The 5'11" three-star recruit played well enough to create a quarterback controversy storyline for us to work with by way of giving UVA Football fans something to think about other than how the Elliott rebuild, two games into Year 2, is still lacking in anything substantive in terms of visible progress, with Muskett, on his side of the QB drama, having looked less than stellar in his 9-for-17, 94-yard effort in the blowout loss to the Vols in Week 1.
Elliott did his best after Saturday's game to stifle any controversy, in the process, adding fuel to the fire, insisting that he would return to Muskett as the starter once the three-year FCS starter is again healthy and cleared to play.
His talking points on the QB controversy on Tuesday were to emphasize that Muskett and Colandrea "have a really good relationship," that the competition between the two for playing time is "a healthy competition," and that "they make each other better."
This was the coach trying to deflect on a question about how Colandrea's play might be putting pressure on Muskett, by all accounts – OK, mine, from chatting with him at the ACC Kickoff in Charlotte in July – a super nice kid, who is also, unfortunately for him, about as tenuous a starting college quarterback as you will see.
Muskett, a transfer from a mid-tier FCS program, Monmouth, where he started 23 games over three seasons, was initially brought in by Elliott to compete for the QB1 job with Jay Woolfolk, the two-year backup to Virginia's starting quarterback for the past three years, Brennan Armstrong.
After Armstrong left via the transfer portal for NC State, Elliott settled on beginning a competition between Muskett and Woolfolk, a UVA baseball player, in the spring, with the coach making it publicly known that he wouldn't name a starter until training camp, ostensibly to give Woolfolk the ability to compete full time.
The plans changed there when Woolfolk announced in July that he was dropping football to focus on preparing for the 2024 MLB Draft, in which he is a projected top prospect as a flamethrowing relief pitcher.
Even with Woolfolk gone, Elliott still declined to name a starter until the final week of camp, elevating Colandrea, originally expected to compete for the #3 spot on the QB depth chart, into the competition for QB1.
In the final week of camp, Elliott, unprompted, declared that Colandrea was pushing Muskett for the #1 spot at QB, ahead of then going ahead and naming Muskett the starter as camp was breaking.
Going from those months of hard hedging on what to do about naming a starting QB, now Elliott is suddenly invoking a hardline policy about sticking with a guy that appears to have barely gotten the nod at the end of months of tough competition because he decided that guy was the guy, and because it wouldn't be fair that the guy he barely decided at the ends of months of tough competition was the guy would lose his job because the other guy who was barely edged out at the ends of months of tough competition performed well in actual game action while the first guy was injured.
Got it?
Good, because I'm not sure that I do.
It's to a point where Elliott apparently feels the need to be extra careful about even saying nice things out loud about Colandrea, like in his answer to a question about his confidence in Colandrea if he has to play on Friday night up in College Park, if Muskett is still not available.
"Yeah, so, I think the confidence has already been there, and obviously I know I have to be mindful of how I say things when I'm talking to everybody, but I've expressed that we feel really confident this kid has a chance to be very, very good in the future," Elliott said.
Actually, though, yeah, it was just one game, but Colandrea was "very, very good," small sample size, in that one game.
It's OK to say that.
Elliott would eventually get there.
"He showed that the moment wasn't too big for him, so that gives you confidence," the coach said. "He also showed that he's grasping what we're asking him to do for the most part, and then areas where we've got to improve, but I've said, he's got the moxie, he's got that 'it' factor, he plays with a little bit of a chip on his shoulder. Those are the things that I had confidence in prior to because I had seen it in some of the scrimmages when we went over to Scott Stadium. Spring game, you kind of saw him when the lights came on, he was able to perform.
"Just proud of him, happy for him," Elliott said. "Really, it puts pressure on the young guys around him to step up, because you might be the next man up, and he was ready when his number was called. Now this week, obviously he has to show the consistency to be able to take, OK, one game plan, flush it, and learn a new game plan within a week. So, that'll be a challenge for him as he goes forward, whereas on the flipside, Tony has had that experience because he's played a lot of college football so far."