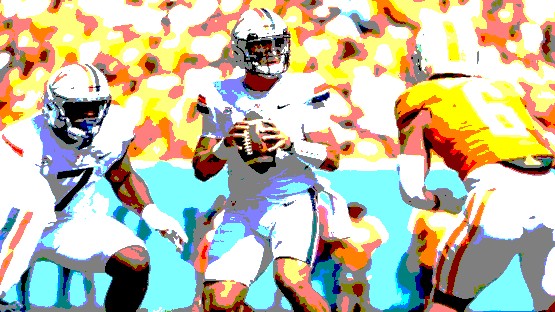 Tony Muskett is still the QB1 on the UVA depth chart, but that was the case the past couple of weeks as well, and Tony Elliott ended up starting true freshman Anthony Colandrea as Muskett has tried to battle back from the left shoulder injury he suffered in Week 1.
Elliott, in his Tuesday presser, told reporters that he has seen improvement out of Muskett, an FCS transfer who won the starting job in the final week of training camp, "that makes me think he's beyond emergency duty."
But he had similar thinking last week, before deciding that Muskett, who warmed up with the ones pre-game last Friday night in College Park, wouldn't be a go for the game with Maryland, opting to go with Colandrea as his starter for the second straight week.
Muskett, as of the presser, is "still working through some of the other things and kind of milestones and hurdles. I want to see him finish a practice without having any noticeable grimaces, because he's still got some pain involved and some soreness, and there's certain aspects of his job that bother it a little bit more," Elliott said.
"Obviously throwing, he's a little bit more comfortable with the violence of throwing, but there's other things. When you start talking about the mesh with the handoff, you don't think about that, but when you're meshing the ball with the running back, you take some movement on potentially that injury side," Elliott said.
"I definitely think he's progressed beyond emergency status, and still day-to-day, and he's improving all the time, and he wants to play, and he's trying to prove that every day at practice," Elliott said.
Colandrea has looked good, by and large, as the fill-in, passing for 377 yards and two TDs in the 36-35 loss to JMU in Week 2, and 263 yards and a first-quarter TD in the 42-14 loss at Maryland in Week 3.
But the youngster had a miserable fourth quarter in last week's loss, with three interceptions and a lost fumble, allowing what had been a one-score game early in the fourth to turn into a blowout.
Elliott saw a lot out of Colandrea last week that he liked.
"I think the first touchdown pass, like, you kind of see something that excites you," said Elliott, referencing the 19-yard TD pass to Kobe Pace, on a play-action pass that Colandrea completed as he was being hit by a Maryland defender.
"I mean, the guy has got a guy barreling down, and he stays with the concept, and he gets the ball, and he puts it where the back can catch it and go make a play," Elliott said. "Then you see he escapes the pocket, and then he's not just running, but he's making guys miss. Still has to learn how to slide a little bit better at times, got to protect himself. Then you can see him sit in the pocket, and he can deliver a strike.
"I think the thing that everybody is getting to see about him is just how poised he can be. Like, he's got a ton of poise, a ton of confidence," Elliott said. "Now, where we have to help him develop and grow is to make sure that you manage that confidence, and that you don't take too many chances and unnecessary chances."
Here Elliott brought up the first interception, on a pass attempt into the end zone on a third-and-long early in the fourth quarter.
"In that situation, you got points, or you feel like you have points. You got the ball on the 12-yard line, take a shot at the end zone. Either your receiver catches it, or nobody catches it, and then you kick the field goal, and you feel good about that drive," Elliott said. "Well, he gets flushed from the pocket, he should know it's man coverage, timing is off. That route, probably not going to get back to it. Protect the ball. Could have possibly ran for it, get positive yards. We kick the field goal, we move on. That's a situation where confidence right there, OK, I need you to manage that situation."
That's part of the growth process – remember, Colandrea is a true freshman; this time last year, he was a high-school senior putting up big numbers against teenagers.
"You see he can extend it with his legs. He's going to play kind of like BA (former UVA starting QB Brennan Armstrong, now at NC State, this week's opponent) with that mentality," Elliott said. "He's going to run the football to go get extra yards, not just to get a few and slide, slide down. We're going to have to teach him how to manage that, as well, and he's got moxie and he's a competitor, and he loves to compete and wants to win.
"Those are the things that we see out of him, and I believe that once Tony is healthy and gets in there, I think you're going to see a lot of similar qualities from him as well," Elliott said.
So, you can see there Elliott's preference is for the three-year FCS starter over the young guy who you have to think is the QB of the future.
A reporter asked Elliott about the thinking related to the pressure to win now, which would seem to incline him to want to go with the veteran Muskett, versus getting the freshman Colandrea more reps to better prepare him for down the road.
"I haven't given it thought about relation to my success, my tenure here," Elliott said. "My thoughts as it relates to the quarterback position is, one, Tony Muskett and his long-term health. What I don't want to do is mismanage his long-term health. I don't want to put him in a situation where he can't protect himself, and he's not ready to play and not ready to play at a high level. Then I think about what's best for the team next.
"I think if Tony is healthy, then I think that's probably the best for the team. If he's not healthy, then it's not best for him, and it's not best for the team," Elliott said.
"In terms of managing the quarterback situation, I think dynamics have changed nowadays in college football, and for me right now, I'm just focusing on how we can figure out a way to win on Friday night and have a productive season going forward, and then in terms of long-term, the quarterback situation, then we'll evaluate it more so when we get to the end of the season.
"But in terms of week to week, it's more related to what is Tony's actual health than is he ready to go, and can he go and be productive, so the opportunities for him to grow and learn from some of the mistakes that he might have to persevere through," Elliott said.