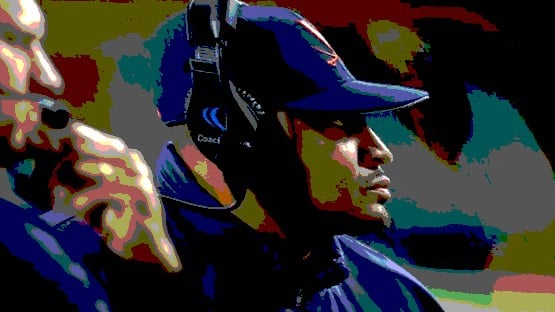 Tony Elliott talked culture all last year – how his focus in Year 1 was about building culture, implying that he was inheriting a program from Bronco Mendenhall lacking in discipline.
We're a third of the way into Year 2. What's the excuse now?
"I don't fault the officials at all. We got to, as I tell them, we got to win and lose with class. We're in the final moments of the game, that's when we got to be at our sharpest, and we just didn't have the discipline down the stretch to win the football game," Elliott said after UVA's 24-21 loss to NC State on Friday night in the teams' 2023 ACC opener.
Virginia, a 9.5-point underdog going in, trailing most of the way, rallied in the final minute to tie the game at 21-21, most improbably.
It had appeared that true freshman QB Anthony Colandrea had thrown the game away on an ill-advised pass into the end zone that was picked off by State DB Aydan White with 5:39 to go.
But the UVA defense, stout all night, limiting the Wolfpack offense to 319 total yards, forced a three-and-out and a punt.
Ethan Davies took the line-drive kick to the State 46, but here – lack of discipline, a holding penalty during the play – moved the start of the drive all the way back to the UVA 34.
For those keeping score at home, that's 20 yards of lost field position.
Colandrea, again, a true freshman, and not even what you'd consider a top recruit, just a run-of-the-mill underrecruited three-star, looked like a grizzled veteran on the next series.
The drive opened with a designed run for Colandrea that went for 11 yards, and he would complete six of his seven pass attempts on the drive for 50 yards – the final completion connecting with Malik Washington for a 3-yard score that made it 21-19 with 36 seconds left.
Obviously, the next play would be a two-point try, but …
Offensive lineman Ty Furnish was flagged for unsportsmanlike conduct after the TD, pushing the try back to the 17.
"Trust me, we don't have any two-point plays on the 17-yard line," Elliott told reporters after the game.
It was basically a play drawn up in the dirt that Colandrea made work for no good reason.
Give the kid credit, he can keep plays alive with his feet and his fearlessness, which got him into trouble on the pick in the end zone earlier in the fourth quarter, but served him well when he flung the ball, throwing across his body, running right, heaving it to the left, in the direction of Malachi Fields in the end zone.
The ball seemed to hang in the air forever before falling into Fields' hands for the conversion, and tie ballgame.
"Colandrea bought enough time, and put one up, and Malachi went up and made a play, and that's really what that was," Elliott said. "And you know, hopefully our guys will learn from the significance where you get caught up in a personal battle in the moment, and now it puts you in a situation where, let's be honest, typically you don't overcome a situation like that. It was just a heck of a play by two guys playing backyard football."
The problem with that play: Colandrea was assessed for unsportsmanlike conduct after his helmet came off.
This one was a questionable call – it sure looked like the hit that Colandrea took on the play jostled the helmet, and he took it off not because he was celebrating excessively or trying to show anybody up, but because it was about to fall off anyway.
Even so, gotta know the rules.
The 15 yards there set the kickoff back to the 20.
Specialist Matt Ganyard got the ball to the State 17, where Julian Gray, who returned a kickoff for a TD in State's 45-7 Week 2 win over VMI, did his thing, returning the ball 35 yards into plus territory.
Special-teams play has been a problem area for Virginia since Elliott took over, and mistakes on that unit were critical in the Week 2 loss to JMU, with a blocked punt for a Dukes' TD playing a key role in the one-point setback, and a kick-return TD helped Maryland get off the mat from an early 14-0 deficit in the Cavs' Week 3 loss in College Park.
"We were trying to kick it away from No. 8. I mean, he's a dangerous guy. I mean, if you watch the VMI game, he took two kickoff returns to the house – one of them was called back for a holding penalty. And so all night, it was kind of cat and mouse, just didn't want that guy to beat us, because we knew in order for us to have a chance in this ballgame period, we're gonna have to make a draw or win the special teams matchup," Elliott said.
"I thought he put it there, and then we lost contain. But the bottom line is, 36 seconds left on the clock, and you're kicking from the 20. That's automatic field position right there with a dangerous offense. I think they had two timeouts still, and you give them good field position just with the penalty alone. But we broke, we lost contain there, and they spit it out a little bit further than we would like, and just a tough lesson for our football team to learn tonight."
Set up at the UVA 48, State was able to play it close to the vest. Brennan Armstrong went for eight yards on a QB keeper on first down, then kept for another 8-yard gain to get the ball into field-goal range.
After another Armstrong run to center the ball, the Pack set up for a 48-yard field-goal try with three seconds left.
The kick was blocked at the line, but regulation wouldn't end there. Linebacker James Jackson was flagged for a personal foul for making contact with the snapper on the play, which is a big no-no.
"The rule in college football is you can't jump over the snapper, you can't touch the snapper. And they got to throw the flag. I don't fault the officials at all," Elliott said.
Brayden Narveson nailed the 33-yarder on an untimed down to give NC State the walk-off win.
It definitely felt afterward like the UVA side handed the Wolfpack the W.
The sum total of errors, physical and mental, in the last five-plus minutes: an INT into the end zone, what was effectively a 20-yard penalty on a punt return, two 15-yard penalties on scoring plays, an inexcusable breakdown on kick-return coverage setting up State in plus territory, one last 15-yard penalty setting up the game-winning play.
This is a classic example of snatching defeat from the jaws of victory, and the irony is, for a coach that loves to talk about how he's intent on building culture, this one is the direct result of his efforts to that end still coming up far short of where things should be.
"We took a step, right? Took a step tonight," Elliott said, trying to sell us a moral victory, which is what you have to do when you're 3-11 a third of the way into Year 2, and the latest loss is the result of a cavalcade of boneheaded mistakes.
"They had a chance to kind of melt and wither late in the game, and they found a way to keep fighting all the way to the end," Elliott said. "Now we have to go, as I told them in the locker room, we got to go, you know, 59 minutes and 20 something seconds, and that's how long we went. We gotta go 60. We've gotta finish it. We can't lose our composure. We gotta believe that we're supposed to be right there. And then, when we get there, we've got to act like we've been there."
"But I did see progress, just overall from a mentality standpoint, first of all for these guys to come back to work and put themselves in position to get it to a fourth-quarter game," Elliott said. "I think they're starting to understand and believe what it takes to win consistently. You got to have the mindset that you're gonna play a four-quarter game every time you line up. Your objective is to get the game to the fourth. And then at that point, I lock in, I have more discipline, I have more focus right then my competitor, and I finish the game.
"What we got to do is go back, and they did with the exception of three plays late in the game with 36 seconds left on the clock. We lost our cool, we got caught up in some personal battles. And unfortunately, as I told them, that earned us the wrong side of the of the game and didn't give us an opportunity to try and see if we can get it to overtime."