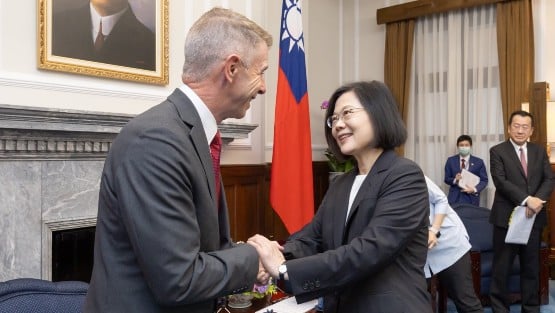 A Congressional Delegation (CODEL) met with senior officials in the Indo-Pacific to discuss security issues and deterrence measures for countering increased aggression from the Chinese Community Party.
House Armed Services Committee Vice Chairman Rob Wittman of Virginia was joined by Congressman Carlos Gimenez of Florida, Congresswoman Jen Kiggans, who represent Virginia's District 2, and Congressman Donald Norcross of New Jersey. The members of the CODEL released a statement when they returned.
"Intimidation, lies and military might are the cornerstones of the Chinese Communist Party and their efforts to coerce their neighbors across the Indo-Pacific. China's military aggression in Japan's Senkaku islands and Taiwan's air defense zone, water gunning Philippine resupply vessels, and Fukushima disinformation campaigns are routine operations for Beijing."
China's increasing aggression is more and more a national security threat to the United States, but the U.S. "is committed to ensuring a free and open Indo-Pacific for the future of global trade and commerce that improves the world economy. The United States must be prepared to respond to the Chinese Communist Party's aggression and provocation with strength and transparency."
The CODEL met with Japanese partners to discuss the nation's increasing defense investments.
Wittman, Gimenez and Kiggans met with Philippine partners in Manila to advocate for strengthening existing economic and military ties between the two countries.
In Taiwan, Wittman, Kiggans and Gimenez met with President Katherine Tsai, Secretary-General Koo and Minister of Foreign Affairs Wu to reaffirm U.S. support for Taiwan and assure any hostile action against Taiwan would evoke a resolute response from the U.S. The importance of American commitment to fulfilling the nearly $14.3 billion backlog in arms sales to Taiwan was emphasized.
"President Tsai — know that any hostile, unprovoked attack on Taiwan will result in a resolute reaction from the United States," Wittman said in his opening remarks before the CODEL's meeting with President Tsai. "We know too of the incredible effort that Taiwan is putting forward in its own self-defense — the extension now of service in the military. And we have an obligation to make sure that we fill the backlog of foreign military sales that exist now between our countries. I can tell you that members of the House, on both sides of the aisle, are focused on making sure this backlog in foreign military sales gets fulfilled."