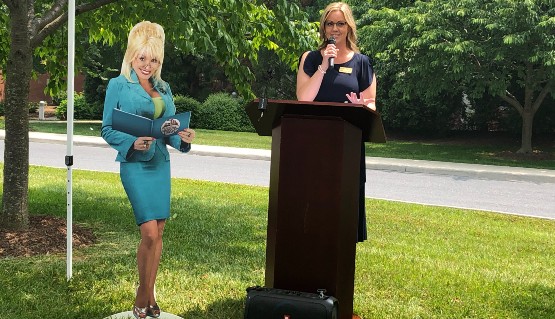 This summer, Dolly Parton's Imagination Library celebrates gifting 211 million books to children in the United States, Australia, the United Kingdom, Canada and the Republic of Ireland.
Parton and her 11 siblings grew up "dirt poor." Their father was illiterate, but now her book program will plant the seed for a love of learning in children under age 5 in the Valley.
"'Books from Birth' will enable every child born here at Augusta Health to be eligible for registration in Dolly Parton Imagination Library," said Krystal Moyers, Augusta Health Administrative Director for Community Outreach and Partnerships.
Each book in the program is handpicked by Dolly herself. Moyers' daughter participates in the program.
"Books from Birth," funded by the Waynesboro Kiwanis Club and the Carr Family Foundation, is a partnership between the United Way of Staunton, Augusta County and Waynesboro.
"Today is a dream of mine," United Way of Staunton, Augusta County and Waynesboro President and CEO Kristi Williams said.
She came to United Way five years ago when approximately 350 children received books. She did not know that Dolly Parton was involved in early child literacy.
"It touched my heart in a way that I just can't put into words," Williams said of learning about Parton's program. She said a local case manager once told her about a local home in which the children could not read and no books were available.
United Way began to work toward finding funding for more local children to receive books. Now more than 1,600 local children receive books through the United Way, and with Parton's program participation will increase by 1,000 children each year.
"After five years, over 6,000 children in our community having 60 high-quality age-appropriate books in their own home library by the day that they walk in our public school kindergarten's classroom," Williams said. "How amazing is that?"
California and Montana have enrolled in the program as statewide initiatives.
"We're going to make Virginia the next," Williams said.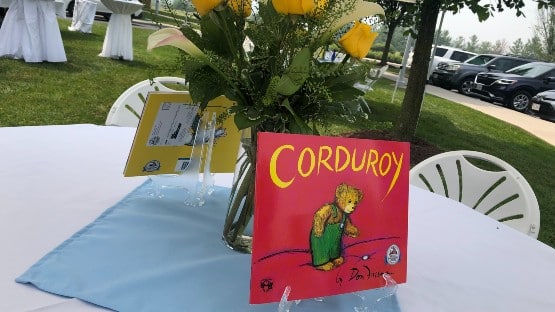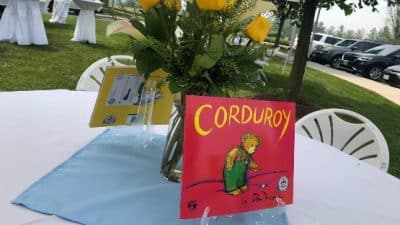 The first book each child in the program receives is Watty Piper's classic "The Little Engine that Could." The last book before kindergarten is Nancy Carlson's "Look Out Kindergarten, Here I Come."
Jeremy Rowe's five-year-old son is enrolled in the book program. He lives in Stuarts Draft.
Before the program, he thought he and his wife had done a good job of creating a library of classic children's books, including "Goodnight, Moon."
"One of the things that I realized pretty quickly is that I never heard of the books we were receiving [from Parton's program]," Rowe said. "I didn't know any of them. So I learned as much as my kids did as I was reading and going through the program."
He is excited for other families and children who will now also get to experience books in the program.
Augusta Health RN Maternal Health Navigator Roxanne Harris has been with the hospital in Fishersville since the first baby was born in its care. Dolly Parton's Imagination Library will be a "unique program at Augusta Health" focused on the community's needs and tearing down barriers to instill a love of reading.
"For anyone who has sat down with a child and read a book, that is when magic happens is that interaction between a child and just another person," Harris said.