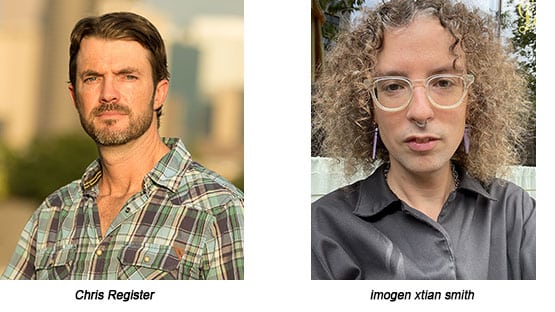 The Charlottesville Reading Series will host an in-person reading on Friday, Feb. 17, at 7 p.m. at New Dominion Bookshop.
The event will feature readings by prose writer Chris Register and poet imogen xtian smith.
The event is cosponsored by local nonprofit WriterHouse and is free to attend and open to the public.
Chris Register
Cycling journalist Chris Register served in the Peace Corps, graduated from Georgetown Law, and litigated multiparty lawsuits in the U.S. District Court before trading his ergonomic lawyer's chair for a stiff bicycle seat.
Setting out to uncover the truth about the state of the nation today, he interviewed hundreds of everyday Americans during 16,000 miles of solo bicycle travel.
Chris eventually put down the kickstand to document this epic survey of the United States in his multivolume Conversations With US series. His latest adventure involves moving from pedal to print with his publishing company, Spoke & Word Books.
imogen xtian smith
imogen xtian smith is a poet and performer living in Lenapehoking/Brooklyn, N.Y. Their work has appeared in Baest, B L U SH, Folder, The Rumpus, The Poetry Project Newsletter, and Tagvverk (among others), as well as in We Want It All: An Anthology of Radical Trans Poetics. A 2021–22 Emerge Surface Be Fellow at The Poetry Project and an MFA graduate from NYU, imogen recently published their debut collection, stemmy things, with Nightboat Books in the fall of 2022.
About the series
The Charlottesville Reading Series was founded by Julia Hoppe and Amie Whittemore in 2014. The series presents in-person readings of poetry, prose and song in a monthly event for community members in Charlottesville.
For more information about the series, please visit readingseries.org.
New Dominion Bookshop is located at 404 East Main St. in Charlottesville.
For more information, visit ndbookshop.com.