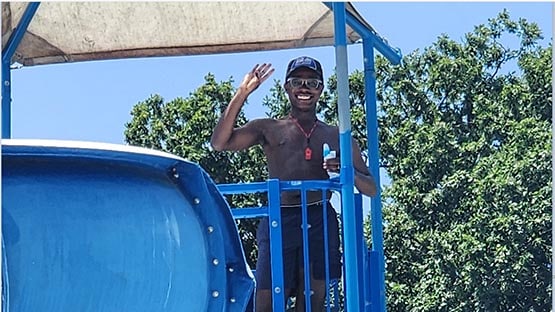 Charlottesville's Aquatics Program has selected two customer service pool attendants, a new position created this summer to keep certified lifeguards in the stands.
The customer service pool attendants are stationed at the top of the water slides and at the banding station next to the front desk clerk at Washington Park Pool.
"Andrea Ross was the staff member who suggested this new opportunity," said Aquatics Program Manager Linda Austin. "These two stations minimize the need for lifeguards at these stations and keep them in the lifeguard stand to ensure each patron's safety."
Grace Sinclair and David Djunga were the two candidates selected for this new position.
Sinclair, a native of Oklahoma, has lived in Charlottesville with her mom since Fall 2022. She studies elementary education with a focus in math at the University of Central Oklahoma. She plans to become a middle school math teacher when she graduates.
"One thing that brought me to apply to be a pool attendant for the city was, since I am new to town, I wanted to get to know the people of Charlottesville," said Sinclair. "Interacting with the community was amazing, I feel much more connected to the people of Charlottesville. Watching the kids, and adults, go down the slide was the highlight, though. Their smiles made my day every single day!"
Djunga, while native to Charlottesville, has split his time between Virginia and Morocco since he was a child. He is double majoring in pre-commerce (with a concentration in finance and management) and public policy in social environment at the University of Virginia.
"I love that I get to meet lots of new and great people, especially the patrons and kids," said Djunga. "Being around the kids is the best – they ask a lot of questions and thoroughly enjoy the pool. City camps was one of my favorite groups."