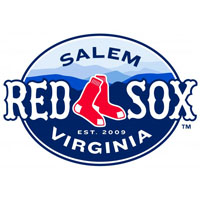 Ryan Merritt lived up to his all-star game starting pitcher status Friday night, surrendering just an earned run in seven and a third innings in the Carolina Mudcats 4-2 victory over the Salem Red Sox at LewisGale Field. Merritt picked up his eight win, without walking a batter, and striking out five Sox. Cody Kukuk was the loser for Salem, surrendering just two runs and two hits, but walking seven Mudcats in three and a third. William Cuevas kept the Sox in it out of the bullpen, going five and two thirds, surrendering five hits and one earned run.
The Mudcats had plenty of chances, and managed to strike for a run in the second. Carolina got base runners on two walks and a single by James Roberts to load the bases with two outs. Kukuk walked Ollie Linton with the bases loaded to bring in a run. Kukuk got Joe Sever to ground out and keep the game at 1-0.
The Sox ran into some trouble again in the fourth. Kukuk walked consecutive batters with one out which finished his night. With Cuevas in, Linton singled home LeVon Washington from second to give the Cats a 2-0 lead.
The score held at 2-0 until the bottom of the sixth, when Aneury Tavarez hit a rare home run off Merritt to cut the lead in half. It was only the third home run allowed by Merritt, but second to Salem.
Carolina banged out two insurance runs immediately in the seventh. Jarrud Sabourin pinch-hit for Washington and laced a lead off double to get things started. Then Linton layer down a bunt single, but Cuevas threw wild to first to bring in the run and give the Mudcats a 3-1 lead. Linton moved up to second on the throw and reached third on a fly out from Sever. Linton would score on a double by Yandy Diaz to give Carolina their fourth run.
The Sox fought back to 4-2 in the eight. Weems laid down a bunt single, but again a throwing error by Jeremy Lucas allowed Weems to get all the way to third. He would score on a sacrifice fly by Matty Johnson, but that was a close as the Sox would get. Elvis Araujo retired the Sox 1-2-3 in the ninth for his sixth save.
The Sox return to LewisGale Field tomorrow night to open a three game set with the Wilmington Blue Rocks. Justin Haley goes for the Sox with Jonathan Dziedzic on the rubber for the Blue Rocks. First pitch is at 6:05.