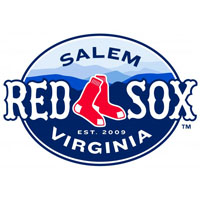 Matt Bywater authored seven shutout innings, leading the Carolina Mudcats to an 8-0 shutout win over the Salem Red Sox on Thursday night at Five County Stadium, completing a three-game sweep.
In the second frame the Mudcats got on the board first as Jacob Schrader launched a solo home run to lead off the inning, putting Carolina on top 1-0.
Trey Ball ran into trouble in the third, as the Mudcats sent all nine batters to the plate. Johan Camargo led off with a single and Connor Lien followed with a single two batters later. With the bases loaded, Dustin Peterson bounced into a fielder's choice, reaching on the play and driving in Camargo. Schrader then blasted a double down off the right field wall, scoring Peterson and Lien. Joey Meneses later singled to right-center, driving in Schrader and pushing the lead to 5-0.
In the fourth, Camargo again led off, this time with a double. Lien later worked a walk, bringing up Keith Curcio who tattooed a Ball offering over the right field wall. The three-run bomb extended the lead to 8-0 Carolina.
Ball (8-12) took the loss with eight runs allowed on eight hits with two walks and a strikeout in just four innings. Meanwhile, Bywater (1-1) struck out seven over seven shutout innings, allowing only three hits and one walk to pick up the win.
Deiner Lopez earned his third-straight two-hit game by going 2-for-3 with a stolen base. Mike Meyers and Mauricio Dubon both picked up hits as well.
Salem's sixth straight loss dropped its record to 55-67, 17-35 in the second half. Carolina won for the fourth consecutive contest to improved to 64-48, 30-23 in the half.
Salem continues its road trip on Friday in Delaware, beginning a three-game series with the Wilmington Blue Rocks. Teddy Stankiewicz (3-10, 3.72) will start for Salem against Wilmington's Luis Rico (6-8, 4.29) with a 7:05 p.m. first pitch. Fans can listen to the game on 1240 AM ESPN Roanoke, online at salemsox.com or via the TuneIn Radio app.