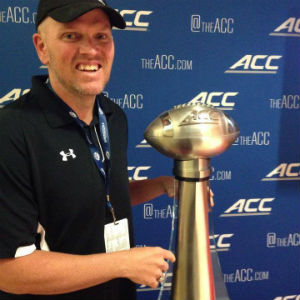 Try as I might, I can't convince myself that UVA can pull it off this weekend against #21 Louisville. Every time I play the game in my head, it comes down to Virginia having trouble to move the ball, Louisville using three-step drops and screens to neutralize the Cavs' pass rush, the Cardinals getting a lead in the second quarter and not looking back.
But that's my heart speaking there, and the ol' ticker has endured way too much bad football lo these past nine-plus years to allow the rest of me to get my hopes up. (It's a defense mechanism, basically.)
Which is where the head comes in. Take emotion out of it. It's a football game. How are football games won and lost?
This gets me back to where I was before the UCLA game, when I called upset, and to my everlasting frustration, was right on except for the two pick-sixes and the fumble return for a TD that allowed the Bruins to overcome what was otherwise a beatdown that day from the 'Hoos.
Football games are won with talent on the field, and coaches putting that talent in the right places. From a talent perspective, Virginia enters Saturday with a lot more talent than Louisville. According to Rivals, UVA's last four recruiting classes have roughly 16 percent more talent than Louisville's last four recruiting classes, with each one of the classes dating back to 2011 outpacing Louisville's in the Rivals recruiting points system.
So there's talent. Now to putting them in the right places, this one comes down to a team with a great offense and average defense against one with what looks to be the makings of a solid defense and a middling offense.
Steve Fairchild is still figuring out the identity of his offensive unit, but the defense of Jon Tenuta seems to have what it wants to do very much figured out, piling up nine sacks and forcing nine turnovers in Virginia's first two games, harassing UCLA quarterback Brett Hundley right out of the Heisman Trophy race in Week 1 as part of its body of work.
Look at Lousiville's body of work, and you see in its Week 1 31-13 win over Miami, its only game against a I-A opponent to date, that the 'Canes registered four sacks and held the Cards to 336 yards of total offense, with Louisville getting help from a kickoff return TD and two interceptions to make the offense look more productive than it was.
To its credit, the Louisville D also did more than hold its own, limiting UM to 244 yards of total offense, and just 70 yards on the ground.
So maybe the script for this one – Louisville's dynamic offense and average D vs. Virginia's stout D and anemic offense – isn't reality. From a schematic standpoint, the two teams are basically even; the difference comes down to talent.
Virginia has more talent. Avoid the turnovers, Virginia wins this one, Mike London is a big step closer to keeping his job, and the fans start coming back to Scott Stadium to replace those empty seats.
– Column by Chris Graham