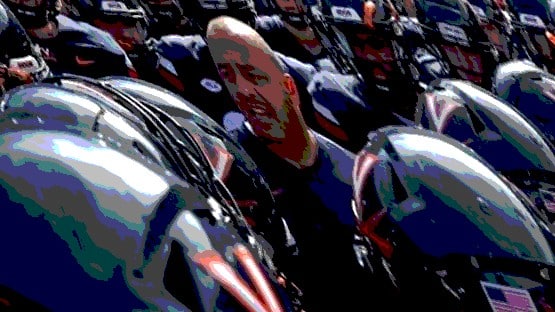 A sell-out crowd of just under 70,000 fans, all but a few of them wearing the Tennessee shade of orange, will be in the house on Saturday for UVA's season opener down in Nashville.
It could be worse.
If the game was in Knoxville, it would be 101,000-plus.
"It's going to be loud," UVA coach Tony Elliott acknowledged in his weekly chat with reporters on Tuesday.
For Virginia, it will be the first game in a while.
The 'Hoos last played on Nov. 12, a 37-7 loss to Pitt.
The story of that day was the pick-sixes on the first two plays from scrimmage thrown by quarterback Brennan Armstrong, who transferred in the off-season and is now at N.C. State.
That was a low point on the field for the 2022 Cavaliers, but that low point pales in comparison to what happened off the field just a day later.
The following Sunday, three football players – Lavel Davis Jr., Devin Chandler and D'Sean Perry – were shot and killed as a charter bus returned to Grounds from a drama class field trip.
A fourth player, Mike Hollins, suffered life-threatening injuries in the Nov. 13 mass shooting, but was able to recover to the point that he was a full participant in spring practice, and he scored a TD in the spring game.
Hollins is listed as the #2 tailback on the depth chart for the Tennessee game, a nice point in his remarkable comeback story.
Saturday, with all of that as the backstory, will be a day of obvious emotion for the UVA team.
Four players, Suderian Harrison, a freshman wide receiver, Paul Akere, a sixth-year defensive end, Chico Bennett Jr., a fifth-year senior, and Will Bettridge, a sophomore placekicker, will wear jersey numbers honoring Davis (#1), Chandler (#15) and Perry (#41).
Both teams will wear decals honoring the three whose lives were lost.
A special pre-game memorial including a moment of silence is planned.
"We have an opportunity on a national stage to show just how resilient the human spirit is, and that's what I'm looking forward to, is just seeing the guys play in a way that inspires people. Because we know the responsibility that we have to the legacies of the ones that we lost, and we've got a great opportunity," Elliott said.
It will also be an uphill battle. Tennessee, which finished 11-2 a year ago, is a 28.5-point favorite in Saturday's matchup, and Vols' fans are thinking their team could make a run at a College Football Playoff berth this year.
Virginia, on its side, coming off a 3-7 season in Elliott's first year as head coach, was picked last in the ACC at last month's ACC Football Kickoff, and even the most optimistic of Cavalier fans isn't thinking beyond maybe (fingers crossed, exhausting a lifetime supply of good luck) a six-win season.
The matchup on paper seems to scream blowout win for the big boys from the SEC. Tennessee led the nation in scoring (46.1 points per game) and total offense (525.5 yards per game) a year ago; Virginia was 126th in scoring (17.0 points per game) and 103rd in total offense (344.1 yards per game).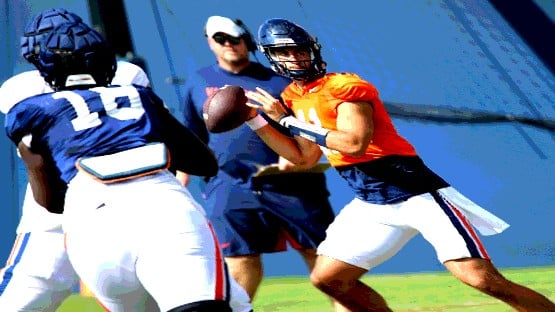 Both teams have new starting quarterbacks. UT's is Joe Milton, a big-armed 6'5" guy with NFL scouts watching his every move; Virginia's is Tony Muskett, a no-star guy coming out of high school who started for three seasons at Monmouth, a mid-tier FCS school, before transferring in this past spring.
A point of focus on the Virginia side has been on channeling the obvious emotion that will come with getting back on the field for the first time since what happened last fall.
"This football team hasn't played in a long time. Been a very long off-season. So, helping the guys understand how to channel that emotion, not play the game before you show up," Elliott said. "Don't play the game in the locker room. You're going to have to make sure that you manage — and kind of the analogy I've been using is gas in your tank — you got manage it. You can't use it all in the first quarter, first five minutes. You got to be able to use to each quarter, each play, and not be too emotionally involved in the game.
"What I've learned in games like this is, the emotions are high early, and then comes down to who can lock in, focus, and then when you get into the course of the game where there are momentum changes, can you stay steady so that you can continue to do what you need to do to give yourself an opportunity to be in position?" Elliott said.
"Definitely focusing on just teaching these guys how to manage their emotions. Don't play the game the night before, right? Don't play it on the bus ride to the stadium. So just giving them tips on how to manage themselves so they're prepared to play for four quarters."
Coaches like to say, and sportswriters like to parrot, that there are no moral victories, and yes, the UVA kids and their coaches are game-planning for how they can score at least one more point than the guys on the Tennessee side.
But realistically, just hanging around and making this one interesting into the second half would be something to build on for the remainder of the season.
Nobody, outside the UVA locker room, is expecting that to happen.
A lot of people are rooting for it to happen.
"Football is a great unifier, as I've said before," Elliott said. "People will be watching. The situation is gonna come back up. It's going to be right in front of us, and we have a chance to say, you know what, we're going to accept the challenge and be the ones that's going to triumph every single day.
"The outcome of the game doesn't necessarily determine the triumph," Elliott said. "For me, it's about how the guys play. And if they play in a way that inspires others, then they're going to give themselves a chance in each game they play to be in it all the way to the end."
As cliché as it is to say this, they're playing for more than a win on Saturday, and the rest of the 2023 season.
"Definitely going to be carrying the Davis family, the Chandler family, the Perry family, with us when we step on the field, knowing their sons should have been with us, and we're going to try and use that energy and channel it to play in such a way that everyone says, you know what, that's a triumphant bunch of individuals, considering everything they been through," Elliott said.