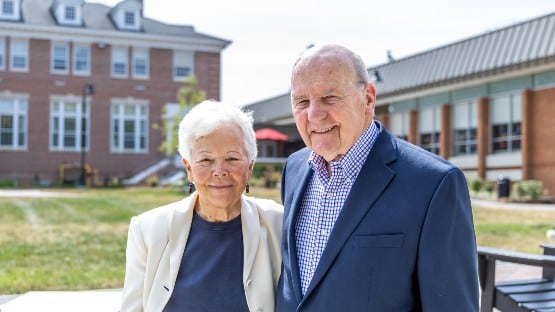 The Rev. Wilfred E. and Dr. Joyce A. Nolen School of Business and Professional Studies is Bridgewater College's second endowed, named school.
The largest school on campus with nearly 45 percent of the undergraduate population at Bridgewater declaring majors in economics and business administration, health and human sciences and the teacher education program, the Nolen School of Business and Professional Studies houses two of the College's graduate programs: the master of science in human resource management (MSHRM) and master of science in athletic training (MSAT).
"The opportunities this endowment presents to engage our students and faculty in meaningful ways are extraordinary. We believe that students learn best when the classroom comes alive through innovative and traditional learning strategies. Endowing the school will ensure that more students can be immersed outside the classroom in activities such as research, conference attendance and implementing programs that can affect the broader community," Dr. Barbara Long, dean of the Nolen School of Business and Professional Studies, said. "Through their gift, the Nolens are validating the work so central to our mission. They believe in the vision of the institution and school and are placing their trust that we will continue to steward our graduates toward meaningful lives—lives that impact their communities and beyond."
The gift from the Nolens to establish the school will support the full range of teaching and learning opportunities for students and faculty, including  undergraduate and graduate educational programs by strengthening engaged learning experiences such as internships, study abroad and research with a faculty mentor; by investing in faculty development to provide funds for professional travel for research needs and to attend conferences and workshops; by increasing investment in classroom equipment, digital resources, specialized software and computer hardware to support teaching and learning; and by establishing an endowed chair for the school.
The Nolens epitomize the lived liberal arts experience through their lifelong involvement in music and their professional careers in higher education and the ministry/business management sector. Rev. Nolen graduated from Bridgewater in 1963 with a degree in music. He continued his studies at the American Conservatory of Music and obtained a Master of Divinity from Bethany Theological Seminary in 1977.
He worked for the Church of the Brethren (CoB) in youth ministry, music and the arts in worship, social justice and economic development programs with disadvantaged communities in the U.S. and beyond for 43 years. He was awarded Bridgewater's Outstanding Service Award in 1993 and has served as a member of the Bridgewater College Board of Trustees since 1993.
Dr. Nolen graduated with a degree in music from Manchester University in 1961, followed by a master's in music from Northwestern University and a master's in guidance and counseling from Northern Illinois University. She received her doctorate in counselor education from Northern Illinois in 1976, and began her career as a resident hall advisor at Northern Illinois and later joined William Rainey Harper Community College as a faculty member in student development.
"I always felt like I had a good chance to make a difference in the lives of others because of my career in higher education," she said.
The Nolens have established a music endowment fund at Bridgewater, and also established an endowment for music and the arts at Manchester University.
"We are proud and happy to support Bridgewater College and the difference it makes in the lives of students and faculty through its excellent academic programs and extracurricular opportunities," Rev. Nolen said. "We believe that if you're successful in life, you have an opportunity to give back to others."
Bridgewater President David Bushman said the Nolens' gift "is a sign of institutional strength and institutional excellence. We are thrilled to have dedicated alumni and friends of the College, like Rev. and Dr. Nolen, who recognize the importance of creating incredible, life-changing opportunities for our students and faculty. Donor support at this level demonstrates the transformative impact philanthropy has at the College, providing support that allows us to continually strengthen the Bridgewater experience."
The College's first endowed, named school, the Bonnie Forrer and John Harvey Rhodes School of Arts and Humanities, was established in 2021.