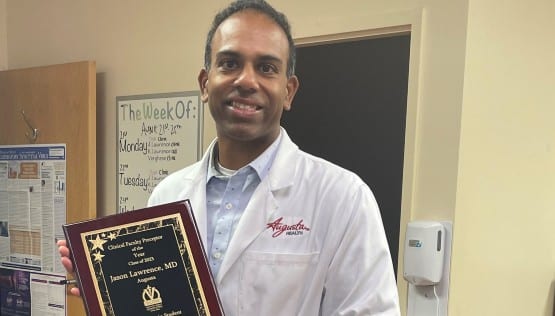 Preceptors are practicing physicians who are integral to the clinical education and training of medical students.
Dr. Jason Lawrence of Augusta Health Pulmonology Critical Care has been named the 2023 Preceptor of the Year by Edward Via College of Osteopathic Medicine's (VCOM) medical students.
Lawrence is recognized for his dedication and expertise as a preceptor in healthcare education.
The award is chosen annually in each VCOM region and voted on by medical students based on which preceptor they believe was the most impactful to their training.
"Being a preceptor is both a privilege and a joy, as it allows me to guide and inspire the next generation of learners," Lawrence said. "To be chosen as Preceptor of the Year is an honor that fills me with gratitude, highlighting the significance of shaping minds and fostering growth."
VCOM's mission is to prepare globally-minded, community-focused physicians to meet the needs of rural and medically underserved populations and promote research to improve human health.
Board certified in Critical Care Medicine, Internal Medicine and Pulmonary Medicine, Lawrence specializes in managing all aspects of pulmonary and critical care medicine, including asthma, acute and chronic bronchitis, lung cancer, pneumonia, pulmonary rehabilitation, smoking cessation and recurrent respiratory infections.