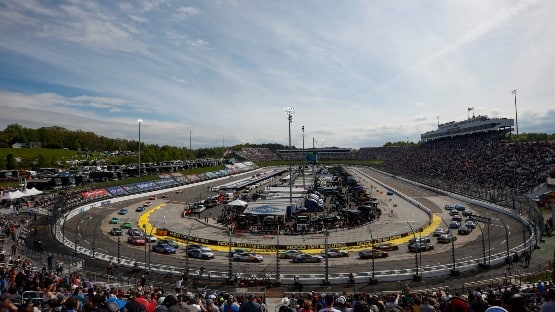 The Motorsports Fairness and Permanency Act would provide clarity in the United States tax code for 1,195 motorsports facilities in the nation, including 29 in the Commonwealth of Virginia.
U.S. Sens. Mark R. Warner of Virginia and Todd Young of Indiana introduced the legislation today. The bill would make permanent a tax classification on depreciating assets for motorsports entertainment facilities, and allow venues to more effectively plan improvements and make safety updates, bringing additional jobs and positive economic impacts to surrounding communities.
"The Motorsports Fairness and Permanency Act is a simple fix to our tax code that will offer speedways the freedom to make long-term investments and upgrades to their facilities," Warner said. "I'm proud to introduce legislation that will improve driver safety, enhance fan experience and support jobs in our racing communities."
According to Young, motorsports are a big part of Indiana's history and culture, and "play a major role in our state's economy. This bill will make a simple fix to our tax code to give speedways the ability to make needed improvements, invest in safety and enhance the spectator experience. I'm proud to support this bill on behalf of the Hoosier motorsports industry and race fans across Indiana."
Congress has codified the definition of a motorsports entertainment complex in the tax code as a temporary provision since 2004. Most recently the definition was extended under the 2020 omnibus and set to expire at the end of 2025. The provision allows racetrack complexes to operate under the understanding that all assets inside the facility depreciate as one in seven years. However, the current uncertainty over whether the provision will be renewed has hindered the ability of track owners to make informed, long-term investment decisions for facility improvements in the future. If the provision expires, approximately 1/3 of all motorsports assets would be reclassified under the 39-year depreciation period and 2/3 would fall under the 15-year period, putting racetracks at a serious disadvantage when compared to other sports and entertainment facilities.
Companion bipartisan legislation was introduced in the House of Representatives in April 2023. The legislation is supported by the Automobile Competition Committee for the United States (ACCUS), the umbrella organization of auto racing sanctioning bodies in the United States.
"As future investments in capital projects are considered here at Martinsville Speedway, this important legislation provides much needed certainty not only for our facility, but motorsports facilities around the country," Martinsville Speedway President Clay Campbell said.
Jobs would be protected, as well as investments in the motorsports industry, according to Richmond Raceway President Lori Waran.
"Motorsports entertainment complexes use the seven-year period afforded by the Motorsports Fairness and Permanency Act to reinvest in their facilities and organizations to create jobs, make safety improvements, and enrich the surrounding economies, most of which are in rural areas like VIRginia International Raceway (VIR) is to Halifax and Pittsylvania Counties," Connie Nyholm Owner and CEO of Virginia International Raceway, said. "As a result of our investment and year-round operations, VIR has already attracted eighteen businesses to its campus and over 600,000 visitors annually through its gates."
Doug Boles is president of Indianapolis Speedway where motorsports are a big economic engine across the state and support thousands of jobs and millions of dollars in investment each year.
"The Indianapolis Motor Speedway is proud to be the world's largest sporting venue with nearly 235,000 permanent seats around our 2.5 mile, 114-year-old facility. Investing in our infrastructure and our customer experience is a constant emphasis and this legislation is beneficial to our planning and execution of projects and upgrades that our fans expect when the visit the Racing Capital of the World," Boles said.
The legislation would impact everyone at all levels of Indiana motorsports, Reece O'Connor, president of Kokomo Speedway, said.
"And it treats everyone fairly. Regardless of the size of the racetrack, or the type of racing that fans enjoy there, we all need certainty to continue investing in improvements that help drive the local economy and improve the sport," O'Connor said.