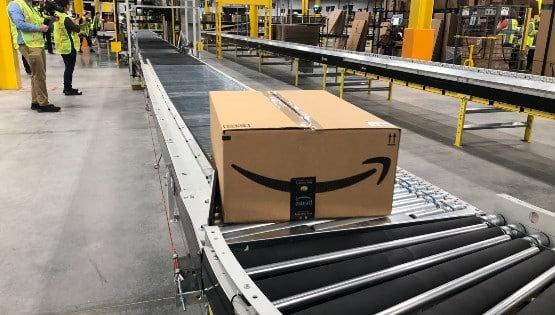 Amazon will launch a new, state-of-the-art fulfillment center and delivery station in Virginia Beach and create more than 1,000 new jobs.
The multi-story robotics fulfillment center and "last mile" delivery station will provide industry-leading pay and comprehensive benefits for employees on day one. The fulfillment center is anticipated to open operations in 2025, and the delivery station is expected to open before the 2024 holiday season.
"Virginia is a great state for business and gives us the opportunity to better serve our customers in the region," Holly Sullivan, Amazon's Vice president of Worldwide Economic Development and Public Policy, said. "We are excited for our future in the Commonwealth, and for what this means for our customers as we continue to grow. We'd also like to thank Governor Youngkin, local, and state leaders for their continued strong support in making another jobs announcement in Virginia possible."
Amazon's first Virginia fulfillment operations opened in Sterling in 2006. The new Virginia Beach facilities represent the company's 14th fulfillment and sortation center in the Commonwealth, and 17th delivery station. In the 650,000-square-foot Virginia Beach robotics fulfillment center, Amazon associates will pick, pack and ship small items to customers such as books, electronics and toys.
Amazon announced a robotics fulfillment center in Henrico County in 2021, which is anticipated to open this fall. Besides the company's Arlington headquarters, Amazon also has 15 Whole Foods Markets, 5 Amazon Fresh stores, and three Prime Now Hubs in Virginia Beach, Richmond and Springfield.
"Amazon's cutting-edge fulfillment centers generate major capital investment and thousands of jobs and strengthen Virginia's position as a logistics industry leader on the East Coast," Gov. Glenn Youngkin said. "We see Amazon's expanding footprint impacting economic growth and innovation across the Commonwealth, and we will continue to compete for additional investment in Virginia."
Amazon has invested more than $109 billion in Virginia since 2010, including infrastructure and compensation to employees, and created more than 36,000 direct jobs. The investments support an additional 200,000 indirect jobs across the state, in fields like construction and professional services, and have contributed more than $72 billion to the Virginia GDP, on top of the company's direct investments.
"City leadership, stakeholders and partners are thrilled Amazon is making such a significant investment in Virginia Beach," said City of Virginia Beach Mayor Bobby Dyer. "Virginia Beach is the ideal location for Amazon operations facilities due to its strategic location to The Port of Virginia, accessibility and available workforce. We welcome Amazon to the Virginia Beach community and look forward to a successful partnership."
The Virginia Economic Development Partnership, the City of Virginia Beach and the Hampton Roads Alliance worked together to secure the project for Virginia. The city will fund stormwater and road improvements between Dam Neck Road and London Bridge Road to provide access to the facilities. Dominion Energy will provide electricity to the sites.
"Virginia's strengths in the supply chain sector are demonstrated by the ongoing expansion of Amazon fulfillment centers in the Commonwealth since 2006," Secretary of Commerce and Trade Caren Merrick said. "The company's growth in Virginia is a testament to the power of our workforce and strong business climate."
The company has committed to investing $1.2 billion to help more than 300,000 employees in the U.S. further develop their skills by 2025.