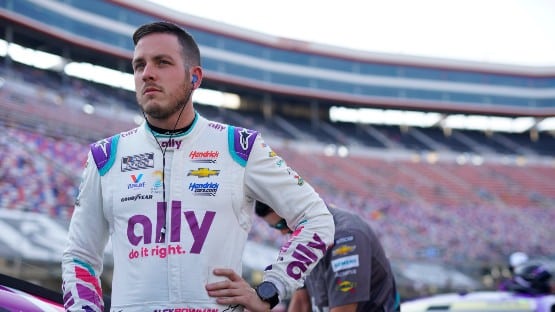 After missing the last three Cup Series races, Hendrick Motorsports announced that Alex Bowman, driver of the No. 48 Ally Chevrolet Camaro ZL1, will return to NASCAR Cup Series competition this weekend at Charlotte Motor Speedway after recovering from a fractured vertebra.
Bowman, 30, suffered the compression fracture on April 25 while competing in a sprint car at 34 Raceway in West Burlington, Iowa. It marked the second time this season that Hendrick was forced to go with a back-up driver.  The first incident involved teammate Chase Elliott who fractured his tibia in Colorado in a snowboarding incident.
To make sure he was on the mend, a NASCAR-approved medical evaluation test was held at North Wilkesboro Speedway for Bowman in which he drove a Cup Series car 170 laps.
Prior to the injury, Bowman was leading the Cup Series in average finish through the first 10 races of 2023. After missing three points-paying events, the Tucson, Ariz., native ranks 17th in the playoff standings, just five points behind the transfer spot with 13 races remaining in the regular season.
Josh Berry subbed for Bowman in all three points events with a best result of 10th at Dover Motor Speedway on April 30. He also competed in Sunday's non-points NASCAR All-Star Race at North Wilkesboro, finishing 15th after winning the All-Star Open.
The 32 year old Berry drives full-time for Hendrick Motorsports affiliate JR Motorsports in the NASCAR Xfinity Series and was Elliott's sub earlier in the season.
"It's a boost for all of us to have Alex return to the No. 48 car this weekend at our home track," said Rick Hendrick, owner of Hendrick Motorsports. "He's still 17th in points, which says a lot about how well the team performed at the start of the year. Alex has worked hard to rehab the injury and come back strong, and I look for him to continue having a championship-caliber season."
Bowman remains eligible for the 2023 playoffs after NASCAR granted a medical waiver and returns to the driver's seat of the #48 Ally Chevrolet Camaro for one of the most physically demanding races on the schedule; 600 grueling miles at Charlotte Motor Speedway for the legendary Coca-Cola 600, this Sunday beginning at 6 p.m.