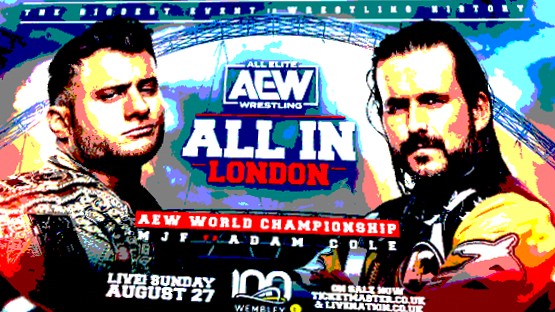 AEW is a few hours from jerking the curtain to the biggest live crowd – uncoerced live crowd (ahem, "Collision in Korea") – in pro wrestling history.
More than 80,000 fans will cram into Wembley Stadium for the company's "All In" show on Sunday.
There will, no doubt, be nerves, at least early on, from the talents.
Maybe that's at least part of the reason for having the main-event guys, MJF, the AEW champ, and Adam Cole, working a tag-team match in what they're calling the "Zero Hour" against the Ring of Honor tag champs, Aussie Open.
Let the big names break the seal, basically.
Lots can happen as the five or so hours of live 'rasslin play out.
What I'm trying to do here with this predictions column isn't to fantasy book, but rather, try to think along with Tony Khan, as to how he's going to want to book this show.
Here goes, with me trying to get into Tony Khan's head.
Opener: MJF/Adam Cole vs. Aussie Open
The tease here is that Friedman and Cole will win the ROH tag belts, but of course they can't, because it can't be the case that they're going to leave Wembley as a unit.
This match is on the card primarily to set up the pretext for one to turn on the other in the main event.
Something happens, subtly, but still, noticeably, to give us that pretext.
It probably makes MJF look like the guy who will be turning, incidentally.
More on that later.
Winners: Aussie Open
The Other 'Zero Hour' Match: Jack Perry vs. Hook
This one feels thrown together because it is thrown together.
Neither is getting any kind of decent push now.
I'd like to see each of these guys working with a veteran who could lead them through.
We get what we get.
Winner: Why not … Jack Perry
PPV Show Opener: Will Ospreay vs. Chris Jericho
Another one that was thrown together, but I did like this week's "Dynamite" contract signing segment, which featured a killer heel promo from Ospreay.
Looking forward to seeing him in AEW full-time in six months.
Jericho does the job, because that's his job here, to get Ospreay over for when he's in AEW full-time.
Winner: Will Ospreay
Stadium Stampede: Blackpool Combat Club/Santana & Ortiz vs. Eddie Kingston, Orange Cassidy, Penta El Zero Miedo & Best Friends
Why?
(The answer: we need to go to the bathroom at some point. This is the point.)
Winners: BCC/Santana & Ortiz
AEW Trios Title Match: House of Black vs. The Acclaimed/Billy Gunn
It seems logical that The Acclaimed are set for the win here, but I'm sensing that Khan wants to get Max Caster and Anthony Bowens away from Billy Gunn once and for all, to let them fly on their own.
Gunn takes the fall again, and teases leaving the mat game for good.
Winners: House of Black
Coffin Match: Sting/Darby Allin vs. Swerve Strickland/Christian Cage
There's no way this is booked to have Sting and Darby lose.
Winners: Sting/Darby Allin
Real World Title Match: CM Punk vs. Samoa Joe
The first Punk-Joe match on "Collision" a few weeks back was a bit underwhelming, with a roll-up finish.
I expect a bit more from them this time.
I also expect Punk to go over, because the long-term booking has to be to get us to a Punk-MJF title-unification match.
Still, this should be the best traditional pro wrestling match on the card, by a mile.
Winner: CM Punk
Trios Match: Kenny Omega/Adam Page/Kota Ibushi vs. Jay White/Juice Robinson/Konosuke Takeshita
I'm not sure what the reason is for having this match. Maybe to set up future tag matches between Omega/Ibushi and White/Robinson?
The White/Robinson team looks like future tag champs, so that would make sense.
I don't see any storyline benefit to either side to get the win.
It's basically 50/50.
Winners: Because Kenny is an EVP, I'll go with Omega/Page/Ibushi
AEW Tag Title Match: FTR vs. The Young Bucks
FTR deserves to go over, to get the win in the rubber match, but there's deserves, and then there's, who are the EVPs in this one?
Yeah, the Bucks.
I don't see the Bucks booking themselves to lose in front of the biggest live crowd in wrestling history.
As long as it's as close to 50/50 as possible, we can get a quick rematch next week at "All Out."
Winners: The Young Bucks
AEW Women's Title Match: Hikaru Shida vs. Toni Storm vs. Saraya vs. Britt Baker
Saraya is wrestling in her home country, so there's logic for her to win.
She also has exactly zero momentum going in.
Just three singles matches this year, one in the last five months.
I'm loving Storm's new manic promos.
Baker is here for star power.
Shida is the placeholder champ.
Winner: Saraya
AEW World Title: MJF vs. Adam Cole
Not fantasy booking here; this is what I see going down.
Cole came across as the bigger babyface of the two in their sit-down interviews on "Dynamite" this week, which, following the rule in wrestling, means he's the one turning heel here.
Roddy Strong and The Kingdom come out to confront Cole at some point late in this one, getting us to think they're part of some plan from MJF.
But, aha, swerve, The Kingdom distracts the ref, and Roddy hands Cole a foreign object to use on MJF.
He uses it, but doesn't get the three-count.
MJF rallies to escape with a roll-up three, and the curtain closes with Adam Cole, Roddy Strong and The Kingdom, having formed the company's top heel stable, beginning to plot their revenge.
Winner: MJF