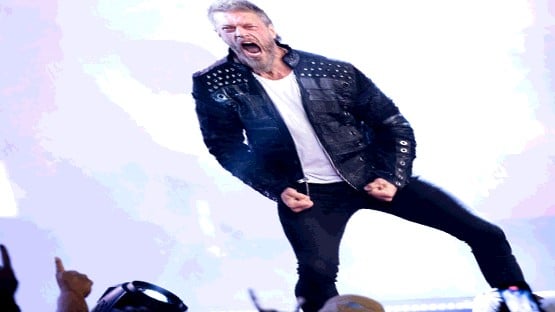 The best-kept, and at the same time, worst-kept secret in pro wrestling in recent weeks involved Adam Copeland, WWE's Edge, who had been rumored for the past couple of months to be on his way to AEW.
The thing about rumors in the wrestling business is figuring out what's real and what's a work, in a world in which you'd better treat everything like it's a work, because it probably is.
Copeland had wrestled what we were told was his final match in WWE in August, which, when word that the match with Seamus was apparently his final WWE match, things really ratcheted up, in terms of the rumor mill.
His WWE contract was reportedly up on Sept. 30, which would allow, theoretically, on paper and the rest, for Copeland to debut on AEW's WrestleDream pay-per-view a night later.
That, of course, seemed too good to be true.
Things rarely work out that neatly in the wrestling business.
Which is why it was that it wasn't until his music hit – the familiar strains of "Metalingus," by Alter Bridge, his entrance song dating back to 2004 – that we would be sure that Copeland was on the way to being All Elite.
"Part of coming here is that I wanted to contribute, I wanted to help. And I just felt like here, I'd really be able to do that, and have the opportunity to do that," Copeland told reporters at the post-WrestleDream media scrum late Sunday night.
Copeland, 49, made his debut as the main event between his life-long friend, Christian Cage – real name: Jay Reso – and Darby Allin was in its final stages.
Cage, the reigning TNT champ, had just defeated Allin with a finish that was pro wrestling creative all the way – Allin's friend and protégé, 18-year-old wrestling prodigy Nick Wayne, turned on him and helped Cage get the win.
The afterbirth had Cage and Wayne attacking Allin, then had Sting, Allin's mentor, even up the numbers with a run-in, at which point Luchasaurus, a Cage protégé, arrive at ringside to give the heels the advantage again.
Just as Cage was about to attack Allin with the Concerto – a double-chair shot – the arena lights were blacked out, and a video montage featuring an unknown man in a muscle car played on the jumbotron.
The lights came back on after the video, and Copeland came out to "Metalingus," to confront the heels and render aid to Allin, the hometown favorite.
AEW President Tony Khan confirmed in the media scrum that Copeland, an 11-time WWE world champ, was signed to work full-time with AEW.
Left unsaid is that the signing of Copeland will go a long way to filling the star void left by the controversial firing of two-time AEW world champ CM Punk last month after a backstage incident at the company's Wembley Stadium show.
Copeland, a WWE Hall of Famer, is one of the few performers out there who could fill that void, and will immediately factor into the main-event picture in AEW.
"I look at an entire fresh roster of faces and so many talents that I've never laid hands on before, and that to me, as a person who is driven by challenges, that for me was the biggest thing," Copeland told reporters at the post-WrestleDream media scrum.
"Like, I've never been in a ring with Samoa Joe. I've never stood in a ring with Sting before tonight. After 31 years in the industry, that's never happened. And then I see a guy like Nick Wayne, or I see Swerve (Strickland), there's just so many possibilities here.
"When I talked to Tony, I said, just in looking at the roster very quickly, like there's 14 names, I mean, that's just from a quick little cursory glance," Copeland said. "But like I said, I mean, I've never faced Samoa Joe, that's really exciting to me. I've never faced or been in the same ring as Jon Moxley. Highly interesting to me, Claudio (Castagnoli), never been in the ring. Like, there's so many different talents here that I have a lot of respect for, and I'd really like to feel what that is. Kenny Omega, that's never happened. I just met him. We've never met before, you know.
"There's a lot here to see and to challenge myself with. And again, that's, my entire life has been built on challenges."
Another role that Copeland wants to fill is that of locker-room leader.
"I absolutely plan to be helping out whoever wants help," Copeland said. "Whoever comes and talks to me, I am an open book. And my 31 years of experience, if you want to tap into that, I am always, I'm a phone call, I'm a text, I'm a come talk to me face to face away. That's always been how I've been. So, you know, there were guys, like, I had a group of seven people, and I FaceTimed with them an hour a day to help them find their voice and promos. I love doing that stuff.
"That's part of what I think I bring to the table when I come here," Copeland said. "And honestly, that was one of the things, one of the really pivotal things, besides my daughter telling me that I should go be with Uncle Jay and have fun, that I thought I could really try and help here, and in turn that helps the entire wrestling industry, which is the thing that I just love second behind my wife and my kids."